Chilliwack -JUNE 21 – Talk about a slice of Canadiana. Lunch at Allen's was a walk down Canadian music memory lane with four veterans who can note only showcase their old hits (and hits they wrote for others) but also taking you through stories of their lives, the ups and downs and not just the standard "this song was written for….".
Starting off with Marc Jordan's first hit Marina Del Ray, he had the crowd in stitches with the story of the cow, the pasture and too much LSD. You had to have been there for the story. He wrote "Rhythm of my Heart" for Rod Stewart. His original version is a little slower but still has that Maritime feel.
Cindy Church was the queen of Country music in the mid-90's and her vocal chops have not diminished. For the most part she was background vocals and percussion, but her take of the Jordanares backing vocal on McLauchlan's "Whispering Rain" was haunting.
Ian Thomas' stories of being recognized in Europe and not in Canada is simply true Canuck folklore. "Painted Ladies" got the crowd going and many didn't know that he wrote "Right Before Your Eyes" which was made famous by America.
And then there is Murray McLauchlan. "Henry Moore" brought the smile and the "old guys" banter among the other members sparked by him was a highlight. Of course the end of the set-proper was "Farmers Song". There was no way he could have left the HUB Theatre without that one.
The songs from the four CD's that the band has produced since 2004 were not at all considered filler. Strong and poignant. Sweet but not over-bearing. More info on those can be found here.
The next time they play the Valley or Vancouver, go have some fun and walk along the musical memory lane.
MAY 2017 ORIGINAL STORY – Lunch At Allen's is a musical powerhouse comprised of four remarkable Canadian talents: Murray McLauchlan, Cindy Church, Marc Jordan and Ian Thomas.  As individuals, they have written for or sung on over 25,000,000 cds, penning hits for Josh Groban, Chicago, Bonnie Raitt, America, Santana, Cher and Rod Stewart, as well as Murray's "Farmer's Song," Marc's "Marina Del Rey" and Ian's "Painted Ladies," just to name a few. These artists have come together adding the incredible voice of Cindy Church (Quartette, Great Western Orchestra) to form Lunch At Allen's. Their stage show is intimate and humourous, featuring many songs familiar to anyone who has turned on a radio in the past two decades.
FVN's Don Lehn spoke with Marc Jordan:
"You would be hard pressed to find another Canadian ensemble with more collective depth of influence over Canada's musical landscape than Lunch At Allen's." – The Beat Magazine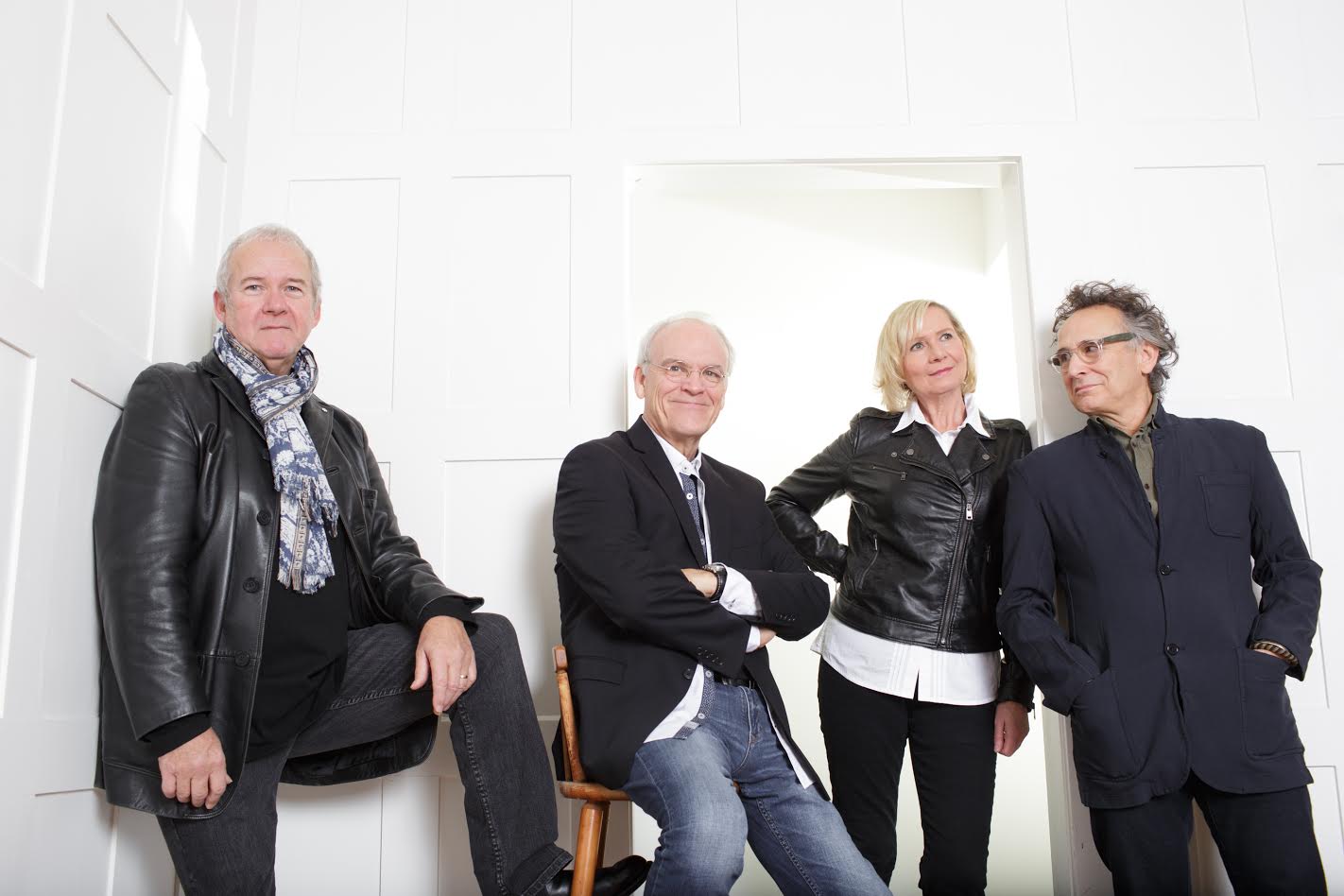 Reserved seating tickets for Lunch At Allen's are $45.00 -$47.50 (tax and facility fees included, service charges extra), and are available from the box offices listed below. Showtime is 7:30pm. For more info, pics & music clips, visit www.shantero.com or www.lunchatallens.ca
Destined to be the ideal soundtrack to glorious summer in its alternately spirited and languid days and always-convivial nights, If It Feels Right – the hotly anticipated new studio album from Canadian folk/pop giants Lunch At Allen's – arrives June 16.
Featuring chart-topping musical veterans Murray McLauchlan, Cindy Church, Marc Jordan and Ian Thomas – who have collectively shifted a staggering 25,000,000 units as both solo artists and songwriters for stars like Chicago, Josh Groban, Bonnie Raitt, America, Santana, Cher and Rod Stewart – Lunch At Allen's is that rarest of beasts: a genuine musical democracy.
Tour Schedule:
June 12 – Campbell River Tidemark Theatre – Box Office: 250-287-7465
June 13 – Courtenay/Comox Sid Williams Theatre – SWT Ticket Centre: 250-338-2430 Ext 1
June 15 – Nanaimo The Port Theatre – Port Ticket Centre: 250-754-8550
June 16 – Victoria McPherson Playhouse – Royal & McPherson Box Offices: 250-386-6121
June 18 – Vernon & District Performing Arts Centre – Ticket Seller: 250-549-7469
June 19 – Kelowna Community Theatre – all Select Your Tickets outlets: 250-762-5050
June 20 – Kamloops Sagebrush Theatre – Kamloops Live Box Office: 250-374-5483
June 21 – Chilliwack Cultural Centre – Box Office: 604-391-7469
June 22 – Duncan Cowichan Performing Arts Centre – Cowichan Ticket Centre: 250-748-7529
June 23 – West Vancouver Kay Meek Centre – Box Office: 604-981-6335