Fraser River – JUNE 10 UPDATE – The Fraser River has subsided , but only a small amount and expect another increased in the coming week.
From the City of Chilliwack and the BC River Forecast Centre:
Link to Provincial Forecasts:  /main/link.cfm?id=1300
June 9, 2017 Update – The Fraser River at Mission gauge is at 5.2m today, a continued decline from the June 4, 2017 level of 5.65m. The BC River Forecast Centre is predicting these levels to continue to decline to under 5m at Mission in the next few days, followed by an increase to approximately 5.5m for June 14 & 15. The river level increase will be largely dependent on how much rain we receive over the entire river basin (e.g. upstream of Prince George and the Thompson River system). Updates will be provided through the week.
JUNE 2 ORIGINAL STORY – To no one's surprise, the BC River Forecast Centre has issued a high streamflow advisory for the Fraser River.
This is in effect from the Fraser Canyon downstream to the ocean and of course, through the Fraser Valley.
River banks including Peg Leg Bar and Island 22 will be treacherous.
Due to high water, Island 22 Regional Park is CLOSED Saturday through Monday. Staff will monitor water levels over the weekend.
Photos Courtesy Rebecca Strain (Island 22)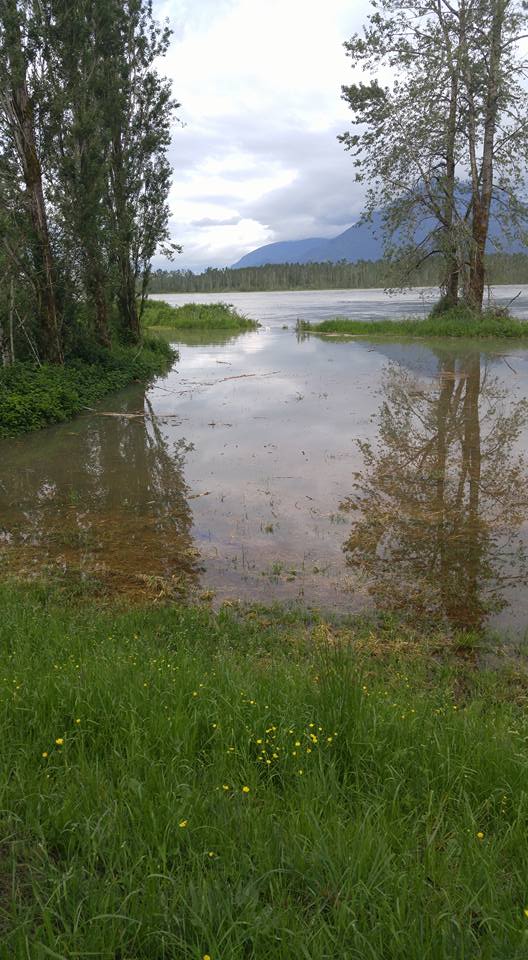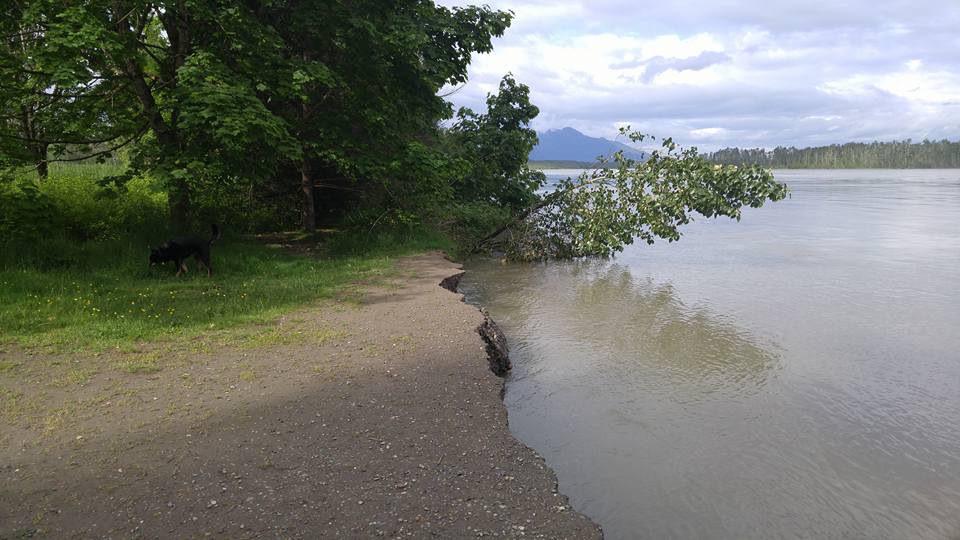 From the River Forecast Centre:
River levels have been rising in response to hot temperatures and rapid snowmelt in the Fraser River basin. Runoff from hot temperatures over the weekend and early this week are expected to lead to additional rapid rises along the lower Fraser River from Wednesday to Saturday of this week. Flows at the Fraser River at Hope (Water Survey of Canada gauge 08MF005) are expected to reach 9500-10,000 m3/s by Friday and into Saturday. This is between a 2-year and 5-year return period flow and below flow levels that were observed in 2007 (11,200 m3/s) and 2012 (11,900 m3/s). Low-lying areas on the river side of flood protection infrastructure have previously been impacted by flows at the Fraser River at Hope in the 9,000 m3/s to 10,000 m3/s range.
Water levels at the Fraser River at Mission (WSC 08MF024) are forecasted to reach 5.9-6.05m over the Sunday to Tuesday period. Complete water level forecasts from the Ministry of Forests, Lands and Natural Resource Operations Flood Safety Section for various locations along the Lower Fraser River can be found on the River Forecast Centre website: http://bcrfc.env.gov.bc.ca/freshet/index.htm. Local impacts of these water levels are dependent on flood protection infrastructure and other measures put in place by local authorities. Local governments along the Lower Fraser River may provide additional information to potentially impacted residents.
After reaching peak levels this weekend, flows are expected to recede slowly next week.
The River Forecast Centre will continue to monitor river levels and will update the advisory as conditions warrant.
A High Streamflow Advisory means that river levels are rising or expected to rise rapidly, but that no major flooding is expected.  Minor flooding in low-lying areas is possible.
A Flood Watch means that river levels are rising and will approach or may exceed bankfull.  Flooding of areas adjacent to affected rivers may occur.
A Flood Warning means that river levels have exceeded bankfull or will exceed bankfull imminently, and that flooding of areas adjacent to the rivers affected will result.