Men's Soccer: Cascades sign three from the U.K.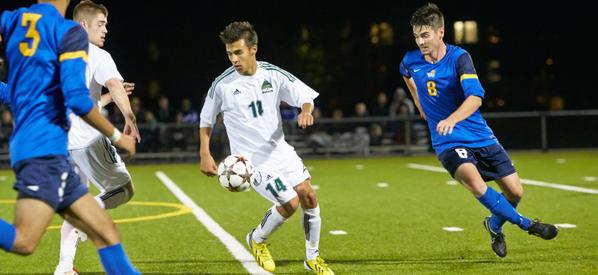 The University of the Fraser Valley men's soccer program has extended its recruiting reach across the Atlantic, signing a trio of players from the United Kingdom.
Forwards Shaun Cavanagh (Caernarfon, Wales) and Charlie Lovell (Billericay, England) and midfielder Spencer Williams (Tenby, Wales) will join the Cascades for the 2017 season. With their commitments, the Cascades' 2017 rookie class is now eight players strong. Previously announced recruits include Vancouver Whitecaps residency product John Kasper and Surrey United standouts Noah Da Silva, Tré Spedding, Karan Kular and Sammy Kajzerek.
Cavanagh, Williams and Lovell aren't the first overseas imports for the UFV men's soccer program – English midfielders Mason Thompson and Harry Owen spent a combined three seasons with the Cascades between 2014 and 2016 – but their signings indicate the attractiveness of UFV and the Canadian university sport system.
"I have a lot of contacts from growing up – players I played with who are now into coaching or have their own scholarship agencies – and the desire and appeal for players to come to North America is massive," said Cascades head coach Tom Lowndes, who hails from Undy, Wales. "A lot of it is, there's a big disconnect between kids who from 16 to 18 are in pro academies, and then they're not offered pro contracts. They're not quite good enough to play pro immediately, but they're still very good players.
"Recruiting locally is our first priority, but any time we can go out of province or out of country is a good thing. We can cast our net a little bit further, and bringing in three kids from U.K. is another example of how our program is growing. All three will bring real technical quality, and will also add competitiveness to the squad. They come from a place where soccer is a way of life, and that brings some extra desire and hunger that we'll welcome this season."
Shaun Cavanagh
5'10" forward, Caernarfon, Wales
Coleg Menai, Bangor City Football Club
Cavanagh has made several appearances for the Welsh Colleges U18 and U19 teams and the Welsh Schools U18 team.
In 2015-16, he helped his club win the U19 Welsh Development League title, scoring 25 goals along the way, while also making 20 first-team appearances and scoring three goals. This season, Cavanagh has amassed 19 goals with the Bangor City U19 side along with three goals for the first team.
Lowndes described Cavanagh as a "natural striker."
"He's doing very well back home right now, scoring a lot of goals, so I'm excited to see how he transitions," he said. "We're planning on him being a big feature for us next season – he's a natural goal-scorer."
"When the opportunity came to join UFV on a scholarship, instantly I couldn't refuse the offer," Cavanagh said. "My main goal is to become a professional soccer player. It's always been a dream of mine."
Spencer Williams
5'8" midfielder, Tenby, Wales
Greenhill School, Haverfordwest County Association Football Club
Highlights from Williams's youth soccer career include winning the Bobby Charlton Soccer Academy tournament and going on to finish third at the Charlton World Cup.
"Spencer's a very versatile player – he's got a very cultured left foot, he can play either fullback or centre mid," Lowndes said. "It'll be exciting to see how he transitions, and where he plays for us next season."
"I chose UFV because it is a good university and they play at a high level of football," Williams said. "I've always wanted to play football and live abroad, so I'm looking forward to these five years."
Charlie Lovell
6'0" forward, Billericay, England
Seevic College, Canvey Island FC
With the Billericay Town Colts, Lovell celebrated a Chelmsford Div. 1 Cup title (2008-09), and was part of a league and Cup runner-up squad in 2009-10 and a Cup finalist in 2011-12. With Bowers & Pitsea FC, he helped the club win the Easter Open International Youth Tournament in 2013-14, and was voted the 2015-16 player of the year in the Eastern Junior Alliance by both managers and players. His Seevic College squad was the runner-up in their league last season.
"Charlie's an attacking winger – he looks to take people on and beat them, and provide quality service," Lowndes said. "He's a dynamic attacker who we're hoping can come in and make an impact."
"Having been given the opportunity by UFV to play soccer in this great part of the world was something I could not let slip," Lovell said. "UFV will help develop me as a player and an individual. I will be giving my all for the team to have a successful season."