GOLF: Davis takes men's individual title at UFV Spring Invitational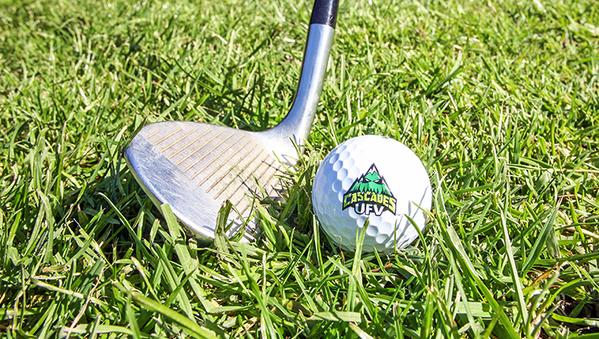 An individual victory for Halen Davis and a unique one-two finish for a pair of Cascades men's golf teams were the highlights for the host squad at the UFV Spring Invitational, held at Ledgeview Golf and Country Club over the weekend.
Alongside the host Cascades, the event featured men's and women's teams from MacEwan University, the women's squad from Simon Fraser University, and individual golfers from SFU and UBC.
Davis, in his third year of eligibility from Stanwood, Wash., carded rounds of 71 on Saturday and 67 on Sunday, fashioning a two-stroke lead after Day 1 and expanding it to six strokes by the end of the 36-hole event to take the men's individual title. Fellow Cascades Connor O'Dell (75-69) and Kaleb Fisher (73-71) and SFU's Scott Kerr (73-71) finished in a three-way tie for second.
Davis picked up where he left off in the fall semester, which saw him win the VIU Invitational and post the Cascades' top finish (T-8th) at the CCAA national championships.
On the team side, UFV head coach Chris Bertram added high school recruits Kyle Claggett and Devin Cutforth to the roster for the exhibition event, giving the Cascades enough players for two teams. Bertram and assistant coach Aaron Pauls both drafted five players apiece, and the two UFV squads finished one-two with Bertram's team (featuring Davis, O'Dell, Nick Guenther, Nathan Bahnman and Claggett) prevailing.
SFU's Erin Farmer won the women's individual, shooting 79 and 76, and led a one-two-three finish for the Clan with teammates Belinda Lin and Michelle Waters taking second and third, respectively. UFV's Sharon Park, a CCAA All-Canadian last fall, was fourth (81-84).
"The event went really well," Bertram summarized. "We had some very trying weather conditions, particularly on Saturday – we had entire greens that were covered with hailstones on three different occasions. But despite that, we turned in our best (men's team) results in probably a year. Our overall team scores were better than we'd seen in quite some time . . . our worst score on Sunday was 74, and that's always a good problem.
"For Halen, it was amazing to see him battle through two tough days of weather and shoot the best score in the entire field. He carried the lead with poise on Sunday – he started the day with a two-shot lead and ended with a six-shot lead. He just kept getting better throughout the weekend."
The Cascades continue their spring schedule this week as they attend the Olympic College Invitational at Gold Mountain Golf Club in Bremerton, Wash.
Men's Soccer: Cascades second at Keg Spring Cup
The University of the Fraser Valley men's soccer team wrung the maximum amount of drama out of its highest-profile spring exhibition tournament, finishing second at the Keg Cup hosted by the University of Victoria after a pair of games that went to penalties.
On Saturday, the Cascades trailed the host Victoria Vikes 1-0 in the late going, but striker James Najman was taken down in the box and Gurmaan Jhaj converted from the spot to knot the score. In lieu of extra time, the game went straight to penalty kicks, where UFV keeper David Hicks came up with two saves, and Jhaj, Nate Trampleasure, Tammer Byrne and Elijah Sampson were successful on their attempts.
The Cascades faced the Trinity Western Spartans in Sunday's tourney final, and once again got their regulation-time offence via a Jhaj penalty kick after Najman was toppled in the area. Jhaj's initial shot was saved, but he slotted home the rebound to tie the score 1-1 in the 70th minute.
UFV didn't fare as well in their second penalty-kick shootout in as many days – Byrne, Trampleasure and Brady Weir converted their attempts, but TWU's keeper came up with saves on Sampson and Bronson Hartley to win it for the Spartans.
The consolation final saw UVic and UBC tie 2-2.
Cascades head coach Tom Lowndes was pleased with the weekend, and noted that Ryan Donald and Max Morgan were among the defensive standouts for his squad.
"The Keg Cup is a quality competition, and we get to face quality teams we see in-season," he said. "We definitely, by far, had the youngest squad, and I was happy with how some of the younger players stepped up. I saw a real sense of togetherness and a desire to fight for each other, which will put us in a good place for next season."