Chilliwack:  A Chilliwack man faces criminal charges after allegedly driving a stolen vehicle through a RCMP drug investigation stake out.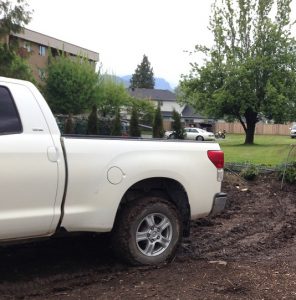 At approximately noon on April 11, 2016, Chilliwack RCMP Crime Reduction (CRU) officers were conducting covert surveillance in the 46000 block of Fifth Avenue. As officers were collecting their evidence, a male left the address, driving away in a pickup truck that had been reported as stolen to the Chilliwack RCMP earlier the same morning.  The vehicle was quickly stopped by the CRU officers in a  lot behind a nearby apartment complex, and following a short foot chase, the driver was taken into custody by police.
Chris Guy Sepass, 30, is facing Criminal Code charges of possession of stolen property, mischief under $5,000, and wilfully resisting or obstructing a peace officer.  Sepass is scheduled to appear in court in May.
"When an RCMP officer goes to work at the beginning of a shift there is no way of knowing where the day will take them.  The following afternoon our CRU section was back on their target," said Cpl. Mike Rail.
On April 12, 2016 at approximately 3:00 p.m. CRU officers executed a Controlled Drug and Substance Act (CDSA) search warrant on the address in the 46000 block of Fifth Avenue.  A sixty eight year old male and a forty four year old female, both of Chilliwack, were taken into custody and later released by police.  Cash and a small amount of heroin were seized by police during the execution of the warrant.
The police CDSA investigation remains open. 
"The pickup truck was driven through a fence before stopping.  Property crime, and auto theft are often linked to the purchase of illegal drugs.  The UFVRD CRU plain clothes team remained attentive, during the course of their investigation, to the details which led to solving a related crime," said Cpl. Mike Rail.
RCMP remind everyone who witnesses anything they believe to be suspicious in nature to contact the Chilliwack RCMP at 604-792-4611 or, should you wish to remain anonymous, call Crime Stoppers at 1-800-222-8477 (TIPS).