Calgary (CP/Huffington Post) – International superstar the Weeknd is going to need a bigger trophy shelf.
The Toronto-born hitmaker took home five Juno awards this weekend, three at a gala event held in Calgary on Saturday night and another two handed out during Sunday's televised show. The album of the year trophy for "Beauty Behind the Madness" and single of the year award for "Can't Feel My Face" took his career total to nine Junos.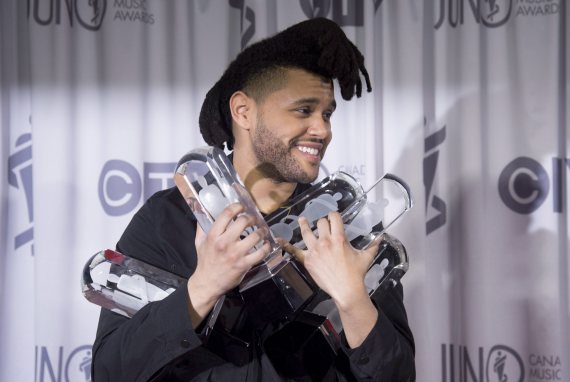 Among the other big winners of the night was Justin Bieber, who was voted in by viewers for the fan choice award.
Pop newcomer Alessia Cara won breakthrough artist of the year after opening the show with her hit "Here" and new single "Wild Things."
Dean Brody's "Gypsy Road" won country album of the year and Walk off the Earth collected the group of the year award.
Burton Cummings received a rousing standing ovation as he was honoured with an induction into the Canadian Hall of Fame for his solo work.
The former Guess Who frontman dedicated the award to Winnipeg — his hometown.
"I will always try and honour the music," he said, shortly before returning to the stage as part of a tribute performance that also featured Arden and the Tenors.
The fast-paced show featured performances from a number of established and rising Canadian performers who have had success on Canadian radio over the past few months. The Weeknd, Shawn Mendes and Bryan Adams were among the marquee performers.
The show began with a feisty monologue from co-hosts Jann Arden and Jon Montgomery. The singer and Olympic gold medallist fired jokes back and forth about their memories of Calgary, where Arden was born.
Montgomery told the audience he too has a solid connection to the city because it's where he trained for the 2010 Winter Olympics and also where he met his wife.
Arden countered with her own tongue-in-cheek memory of the city: "I may or may have not have peed in a garbage can here in the '80s."
The second-time Juno host also took a moment to draw links between the Olympics and the Junos, highlighting at least one thing they don't have in common.
"Thankfully in music there is no drug testing, or there wouldn't be a single soul here tonight," she said to cheers from the audience.
Before the show began, Juno nominee Chad Kroeger caused quite a stir when he walked the red carpet with Avril Lavigne.
The couple, who announced last year that they were separating, also attended a pre-Grammys event together in February.
Kroeger also joined his Nickelback bandmates — who were up for the best rock album Juno on Saturday night — on the red carpet and gave a shout out to Calgary, which has been hit hard by the downturn of oil prices.
"I think the province needs something like this — it'll boost the morale," he said.
"It's nice to have another excuse to come back to Alberta."