Burnaby/Abbotsford/Surrey – University of the Fraser Valley men's basketball coach Adam Friesen has begun the process of reloading his roster for the 2016-17 season, signing a trio of recruits who played their high school basketball in B.C.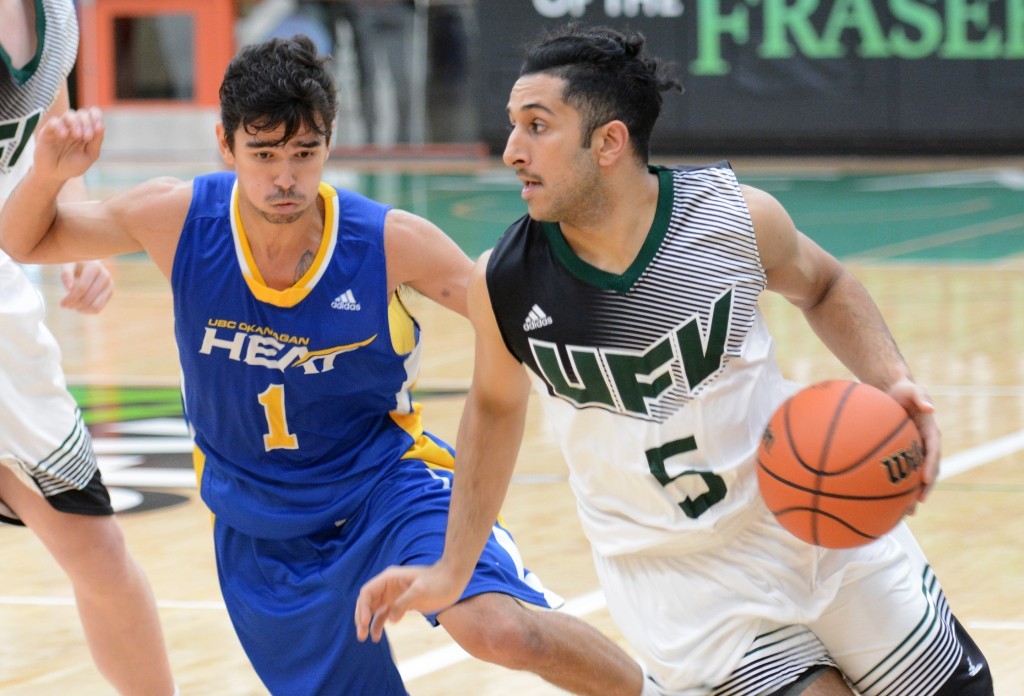 Andrew Morris, a transfer from the University of Victoria, and Surrey high school seniors Daniel Adediran (Pacific Academy) and Sagar Dulay (Tamanawis Secondary) will suit up for the Cascades this fall. Morris and Adediran both stand 6'5" and will add great size and skill to UFV's wing rotation, while Dulay brings excellent playmaking and shooting ability at the point guard spot.
Andrew Morris
6'5" wing
St. Thomas More Collegiate (Burnaby, B.C.)
As a senior at St. Thomas More Collegiate, Morris averaged 20.1 points, 7.4 rebounds and 7.2 assists per game and led his Knights squad to a silver medal at the 2012 B.C. AA high school basketball championship. He also earned MVP honours at the St. Thomas More Chancellor tournament, which the Knights won.
Morris began his post-secondary basketball career at Simon Fraser University, redshirting the 2012-13 season. He spent the next two years with the Capilano Blues of the PacWest conference, earning a PacWest second team all-star nod in 2013-14 and first team all-star honours in 2014-15. He averaged 18.6 points and 8.3 rebounds per game in his second year with the Blues, and was named Capilano's male athlete of the year.
Friesen is thrilled to be adding a talented veteran of Morris's ilk to the Cascades roster.
"He's a versatile player who impacts the game in a lot of different ways," Friesen said. "Offensively, he's a threat behind the three-point line as well as being able to take it all the way to the rim, and on defence, he's an active, athletic defender who can guard multiple positions."
Morris said that playing CIS basketball has "always been the dream."
"When I was looking at teams to play for next year, I talked to Adam and some of the players on the team, and they all said they loved to play for him," said Morris, who plans to study business at UFV. "I was really looking to play for a coach who interacted well with his players, and I've heard great things about Adam and his coaching style.
"It's a winning program, and all of the players who have played there speak very highly of it. I think it's a great fit for me, basketball-wise and academically as well."
Daniel Adediran
6'5" wing
Pacific Academy (Surrey, B.C.)
Adediran is coming off a phenomenal performance at the B.C. AA provincial championship – he averaged 32.5 points, 16.0 rebounds and 3.3 assists per game while shooting 55 per cent from the field, and earned the tournament's top defensive player award. His Pacific Academy Breakers squad finished 12th.
The uber-athletic Adediran garnered a slew of other all-star awards during his senior season, highlighted by a first team all-star nod after leading his team to a silver medal at the Fraser Valley AA championships. He was also named MVP at the Westsyde tournament and an all-star at the W.J. Mouat Hawkball, Brentwood and Surrey RCMP tourneys. In addition, he's been selected to play in the upcoming Surrey city all-star game.
"Daniel's upside is huge," Friesen said. "He's a very good player, but probably hasn't reached anywhere near his potential. He's a hard worker who wants to get in the gym and get better. We realized that he had those qualities as well as the physical talent, and we knew we really wanted this guy. He could be something special.
"I think he can be an elite defensive player and rebounder for his position, and offensively, he has tremendous hands and finishes well around the basket. His jump shot is good, but it's going to continue to improve."
Adediran said he chose the Cascades because he felt comfortable at UFV after visiting campus and meeting the team. He hasn't decided which degree he'll pursue at this point, but is leaning towards something in the Faculty of Humanities.
"I really like the program," Adediran said. "Coach Friesen is a great coach, and he's also really interested in personal development, whether it's personally or academically, and obviously on the court as well.
"I want to be the best I can be – hopefully a top player in Canada. I'm going to work for that, and I know Coach Friesen is going to work me pretty hard. I'm looking forward to it."
Sagar Dulay
6'4" guard
Tamanawis Secondary (Surrey, B.C.)
Dulay becomes the second member of his family to suit up for the Cascades – older brother Manny has been a key player for UFV over the past four seasons, and returns this fall for his fifth year.
The younger Dulay recently put the finishing touches on a tremendous high school hoops career at Tamanawis, helping the Wildcats win the Fraser Valley zone championship and a silver medal at the B.C. AAAA provincials. He was a second team all-star at both the Fraser Valleys and provincials, and added tourney all-star nods at the Surrey RCMP Classic and the Tamanawis Holiday Invitational. He'll also be joining Adediran at the Surrey city all-star game.
Dulay, whose head coach at Tamanawis was former Cascades centre Mike McKay (2007-08 and 2008-09), averaged 16.5 points, 7.5 assists and 4.3 rebounds per game as a senior, shooting 47 per cent from the field and 41 per cent from beyond the arc.
"Sagar shoots well, passes well, dribbles well, and has a high IQ," Friesen said. "Manny's been a pleasure to have in the program, and we expect the same from Sagar. We've known Sagar for a few years, and his game speaks for itself, but we know he's a quality guy who's going to work his butt off on the basketball court and excel in the classroom."
Dulay, who plans to study business at UFV, said he's looking forward to playing alongside his brother next season, and noted that his familiarity with the Cascades program through Manny helped make his decision easier.
"The way Manny's career is going, I felt comfortable I could do the exact same thing," he said. "He's a role model to me. Ever since I started playing ball, I've looked up to him. I've been following in his footsteps, watching his game to help my game."