Fraser Valley (with photo file from Greg Laychak-Times) – For once (for media types) the polls held true and the federal Liberals booted out Prime Minister Stephen Harper and his Conservatives.
As of 1:15 AM Tuesday Morning the count was (leading and won) Liberals 184 (170 is the magic number for a majority), Conservatives 99, NDP 44, Bloc Quebecois 10 and the Green Party 1.
Harper said in his concession speech that he will resign as party leader but stay on as an MP. The fate of NDP leader Tom Mulcair is still murky with a leadership review a definite maybe. All the gains made by the late Jack Layton have been wiped away and Mulcair will lose his position as the Leader of the Official Opposition.
In the Fraser Valley:
In Abbotsford, Now former International Trade Minster and incumbent Conservative MP Ed Fast retains his seat.
In the newly created riding of Mission-Matsqui-Fraser Canyon, Liberal Jati Sidu defeated Conservative Brad Vis by some 1000 votes.
In Chilliwack, it was also a tight race but incumbent MP Mark Strahl eventually pulled away from Liberal Louis De Jaeger to retain the seat.
De Jaeger says he will review options including a recount. "We know there were discrepancies with the advance polls. We know people were turned away. We know that First Nations were disenfranchised. We're not done yet." De Jaeger also not so subtly stated that while he may not be heading to Ottawa, the next Municipal Election in 2018 could see a return to the political stage for the man who said in his concession speech "I'm a small businessman, I'm gay and I'm First Nations, I KNOW what it's like to be the underdog. We'll be back".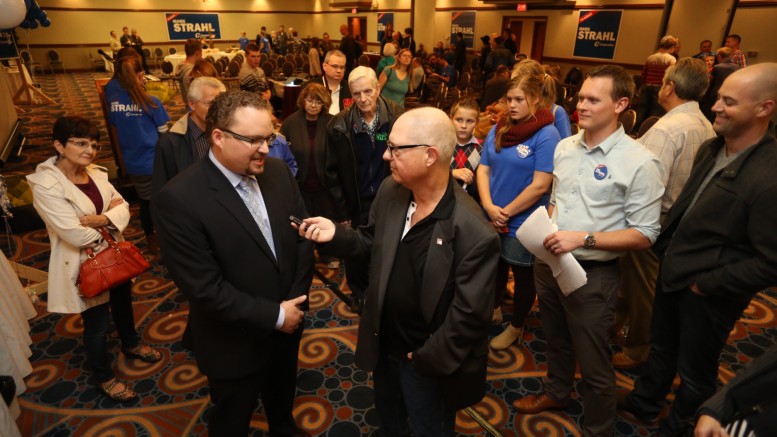 Strahl said his re-election was bittersweet as the party campaigned hard across the country. "Canadians made another choice and Canadians are always right We believe in balanced budgets and stronger criminal law and we will fight for that as the opposition." As far as a possible recount, "There will be a validation of the results and we will see where that takes us."  As far as taking a stab at the top job as Party Leader now that Harper has resigned, Strahl said "No that is not something that interests me. I will be looking forward to a robust leadership campaign and I will support whoever becomes the new leader."
Chilliwack Mayor Sharon Gaetz took to Twitter: Congratulations to our MP @markstrahl on your election victory. I will look forward to working with you once again!
Thank you PM Harper for your devotion to our country.You worked hard and gave up so much. God bless you and your family in the future.
Congratulations to our Prime Minister elect, Justin Trudeau. We wish you and your family well. #rememberingPierre #rememberingMichel