Fraser Valley — Yes the weather is cooler and wetter therefore, effective at noon on Wednesday, September 18, all open fires will again be permitted throughout the Coastal Fire Centre's jurisdiction.
Recent rainfall and cooler temperatures have reduced wildfire risks in the region.
Category 2 open fires will be permitted, as well as the use of tiki torches, burn barrels, fireworks, sky lanterns and binary exploding targets.
Campfire and Category 3 open fire restrictions were not implemented this summer, so with the lifting of this prohibition, there will be no open fire bans within the Coastal Fire Centre.
Local governments may still have their own burning restrictions in place, so people should always check with local authorities before lighting any fire of any size. Open burning is the burning of unwanted materials such as paper, trees, brush, leaves, grass, and other debris, where smoke and other emissions are released directly into the air without passing through a chimney or stack.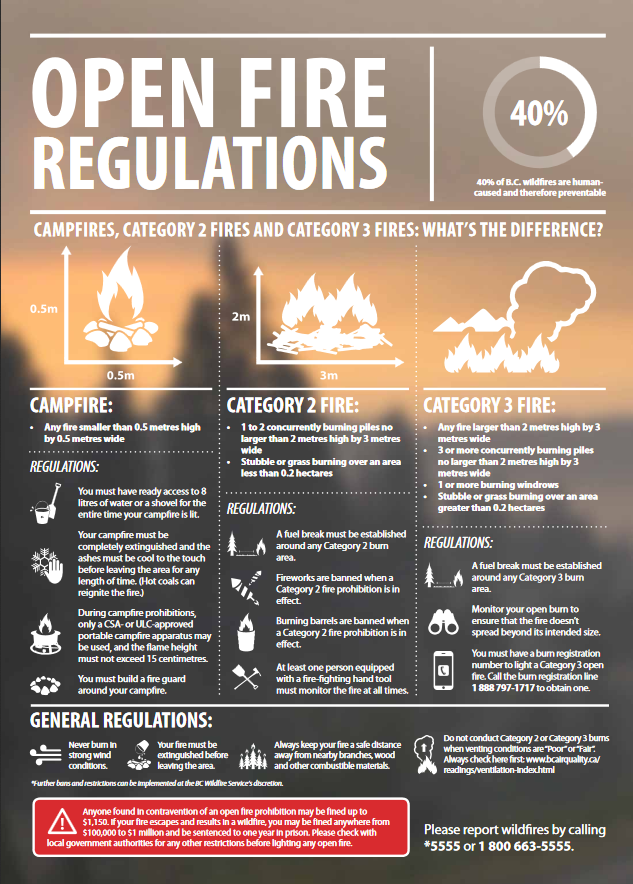 Anyone lighting a Category 3 fire must first obtain a burn registration number by calling 1 888 797-1717. A Category 3 fire is a fire that burns material more than two metres high or three metres wide, stubble or grass of more than 2,000 square metres, or more than two piles of any size.