Fraser Valley – Don Thom was a friend of FVN Fraser Valley News and was once a radio sales person, so he "knew the Biz".  He was a mainstay around Cultus Lake, and a big CFL/BC Lions fan. We miss you.
Don Lehn News Director/Editor – Fraser Valley News.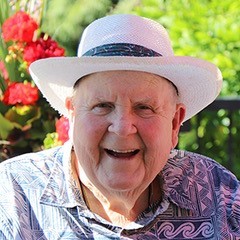 Donald James Thom. 01-31-1934 to 10-29-2018. Predeceased by parents Jim and Peggy and two brothers George and Jimmy. Survived by his wife of 34 years, Marilyn, much younger sister Gayle, children Steven (Meera), Doug (Astrid), Keith (Tina), step-children Brett (Wanda) Christensen, Tamara (Darrell) Stewart, Brian (Trish) Diemert, and Brent (Lynn) Diemert, twelve grandchildren, 8 great-grandchildren, many cousins, nieces & nephews, a remaining circle of life-long buddies from his cherished Bowen Island Days and an untold number of friends who are considered extended family through his walk in sobriety. Don suffered a severe fall and passed quietly on Monday, October 29th with his wife by his side. He touched the lives, and was connected to the souls, of many.
From being named the Senior King in the Better Baby Show in 1938 to becoming an elder statesman in his recovery world, there lives a story about a man [son, brother, uncle, father, step-father, grandfather, great grandfather and friend,] who could create outrageous fun and laughter, pit one side of a room against the other and then change sides, and then turn around and exhibit such genuine kindness and compassion that you just wanted to remain inside his circle of positive energy.
He leaves a legacy of his wisdom that lives inside all he touched. Family and friends who will honour his memory by trying to be as cheerful, optimistic and always ready to crack a joke as Don was.
With permission we share a poem written by Sam Magill Jr. that speaks to this passing and although our hearts are heavy we have no doubt he has been rocketed into a dimension of immortality.
This is how I want to wake up after dying:
To slowly become aware as light tiptoes into the room,
To have gentle thoughts that coalesce from dreams –
Soft and fragile, then as clear and focused as the morning air –
To know that after all the difficult passages of a former life
I can smile again and look forward to the day,
Knowing who I have always been,
Knowing exactly what I love,
And what those persistent angels
Have always wanted me to do.
In lieu of flowers please consider a donation to the Salvation Army which was Don's preferred charity.  Because only Don could manage to swing having a celebration on the day of Grey Cup we've decided to reference it as the Grey Cup Memorial and invite anyone who would like to wear a football jersey to do just that.
Don would love it!
A Celebration of his life and reception will be held
Sunday, November 25th at 1pm
George Preston Centre
20699 42 Avenue Langley