Fraser Valley – Although Summer doesn't officially start until Thursday, the summer fire season is here. The extreme heat wave this week only makes the problem worse.
The BC fire danger rating (i.e. the risk of a wildfire starting) for the province is updated daily at approximately 2 pm.
Wildfire information can be found here.
This is for July 17, 2018. Expect the red zones, Extreme Danger, will increase. For the Fraser Valley, As of Sunday, it is Moderate to High.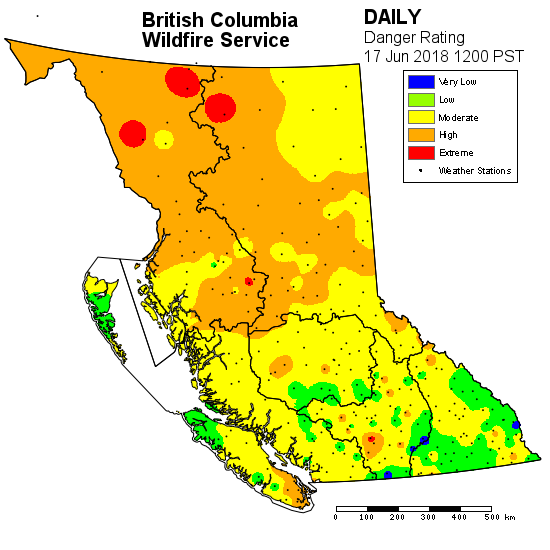 What the danger class ratings mean
Low: Fires may start easily and spread quickly but there will be minimal involvement of deeper fuel layers or larger fuels.
Moderate: Forest fuels are drying and there is an increased risk of surface fires starting. Carry out any forest activities with caution.
High: Forest fuels are very dry and the fire risk is serious. New fires may start easily, burn vigorously, and challenge fire suppression efforts. Extreme caution must be used in any forest activities. Open burning and industrial activities may be restricted.
Extreme: Extremely dry forest fuels and the fire risk is very serious. New fires will start easily, spread rapidly, and challenge fire suppression efforts. General forest activities may be restricted, including open burning, industrial activities and campfires.
NOTE: The danger class map is intended for general public information only. For regulated forest operations, the danger class value must be derived from weather data representative of the site on which operations are being conducted.
Where discrepancies exist between the colour display on the weather maps and the numerical values posted for the weather stations, the posted numerical values shall take precedence for the purpose of implementing the Wildfire Regulation.