Vancouver  (With files and picture from Wikipedia/George Orr)-  It has been 60 years since that horrific day in BC construction when the Ironworkers Second Narrows Bridge came crashing down.
On June 17, 1958, as a crane stretched from the north side of the new bridge to join the two chords of the unfinished arch, several spans collapsed. Seventy-nine workers plunged 30 metres (100 ft) into the water. Eighteen were killed either instantly or shortly thereafter, possibly drowned by their heavy tool belts. A diver searching for bodies drowned later, bringing the total fatalities for the collapse to 19. In a subsequent Royal Commission inquiry, the bridge collapse was attributed to miscalculation by bridge engineers. A temporary arm, holding the fifth anchor span, was deemed too light to bear the weight.
Former Vancouver broadcaster and award-winning documentary producer George Orr has released his latest, using 3,000 feet of 16 mm color film taken by draftsman Peter Hall immediately after the collapse of the Second Narrows bridge.  The bridge, now called the Iron Workers Memorial Bridge, spans the inlet between North Vancouver and Vancouver.  It collapsed during construction on June 17, 1958, taking 19 lives.  The Bridge documentary debuts Sunday and runs until July 7th at the Vancity Theatre.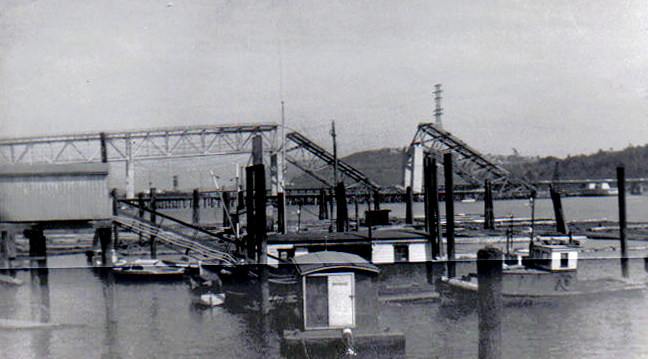 Claire Trevena, Minister of Transportation and Infrastructure, and Harry Bains, Minister of Labour, have issued the following statement on the 60th anniversary of the Second Narrows Bridge collapse:
"Today, we mark the 60th anniversary of the collapse of Second Narrows Bridge in Vancouver, which claimed the lives of 19 workers, along with injuring 20 others, in one of the worst industrial disasters in British Columbia's history. On June 17, 1958, two spans of the bridge, which was under construction, collapsed, causing 79 workers to fall more than 30 metres into the Burrard Inlet.
"As we remember and pay tribute to those workers, we are also reminded of the very important work we do to ensure that workers in all sectors are safe, and that our infrastructure is safe, not only for the public, but for the people who build it too.
"We must learn from the past and continue to improve working conditions, as well as engineering and construction practices, so that everyone returns home safely at the end of the day. Our vision is to make B.C. workplaces the safest in Canada, where fewer injuries, illnesses and deaths occur.
"B.C.'s ironworkers are instrumental in building our province's infrastructure. We would like to thank them for the excellent work they do. The bridges, buildings and structures they build help grow our economy, and help make B.C. the exceptional place that it is.
"We would like to extend our deepest sympathies to everyone affected by this tragic event. Please know that we are thinking of you today. We will continue to honour the memory of our fallen workers every year."
The bridge was officially renamed the Ironworkers Memorial Second Narrows Crossing in 1994 to honour the workers who lost their lives. For more information visit: http://www.thecanadianencyclopedia.ca/en/article/second-narrows-bridge-collapse/