Daytona Beach (With files from USA Today/MSN/Yahoo) – In one of the greatest Daytona 500 finishes of all time, Denny Hamlin held off Martin Truex Jr. by less than a nose to win his first 500 – and the first for team owner Joe Gibbs in 23 years.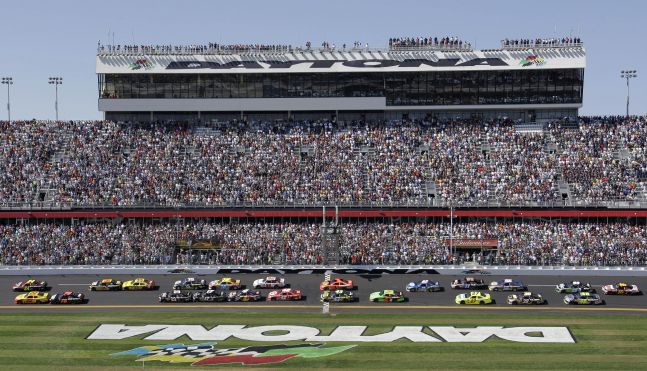 Hamlin teammate Matt Kenseth was leading on the last lap, but Hamlin got a run on the outside lane and then squeezed by, setting up a photo finish with Truex. Then Hamlin won by a couple inches – if that — .011 seconds, the closest finish in the race's history.
The 35-year-old is now in the Chase for the Sprint Cup in his first race with new crew chief Mike Wheeler and finally has a 500. He finished in the top 5 here three of the past four years.
"This was a team victory. My teammates did an amazing job all day working together, all the Toyotas," said Hamlin, who won the exhibition race last Saturday. "I don't know where that came from. I can't even figure out what I did. It just all came together, and I got a great push from Kevin Harvick. This wouldn't have happened without all the Toyotas sticking together. I'm so happy to get this victory for Joe Gibbs Racing."
Dale Jarrett was the last driver to win for JGR, in 1993.
Said Truex Jr., who drives for Furniture Row Racing and Toyota: "I did all I thought I could do. I had the lead.  I probably should have run him up a little more, just lost in the last second. … Really proud of everybody. Really proud of the teamwork with the JGR guys. We're team players, and we're in it for the long haul with them. Congrats to Denny. He beat me by a couple of feet."
With 17 laps to go, an already frustrated Danica Patrick went through a spin through the grass on the backstretch after contact with Greg Biffle. Patrick was already having a bad race; she went a lap down during green flag pit stops after her crew went over the wall too soon and caused a penalty.
Local racing is not that far off.
Mission Raceway Park starts April 8.