Cultus Lake – UPDATE OCTOBER 17 – It was a strong showing for hometown runners at this weekend's (October 16) 18th Around the Lake Give 'R Take Trail Race. Despite being organized and held during a pandemic (observing health protocols) and with a lot of rain in the previous 48 hours, some 140 participants ran through puddles, streams, mud and over branches, with only a few minor scrapes and cramps incurred as they circumnavigated Cultus Lake. 
First across the line was Vincent Pagot of Chilliwack, who's time of 2 hrs, 33 mins, 10 sec was just 5 secs short of setting a new solo course record. Thirteen minutes behind him was Meindert Hinlopen also of Chilliwack. Top women's finisher was Chilliwack's Angela Froese in 3:10:48 followed three minutes later by Tara Paterson of Hope. Top male and female solo finishers received unique hand-crafted walking sticks carved by Rick Den Braber.
Results in the relay competition:
Top female team: 'Sloth Running Team', Anne Neitzke and Esther Kamphuis of Chilliwack in 3:15:40.
Top mixed team: 'Katrina & Ike', Dirk Handke and Melanie Bos of Kelowna in 3:05:09.
Top male team: 'Skinny and the Beast', Jeremy Isaak of Agassiz and Kevin Barata of Abbotsford, in 2:40:33.
Oldest runner was 76-year old Alex Marks, who is also the only person to have run in all 18 Around the Lake Give 'r Take races. Youngest was 16 year-old Hayley Dibski.
The race, which could not be held in 2020, is organized by a committee of volunteers, under the auspices of the Around the Lake Trail Race Society. Funds generated through registrations and sponsors has allowed race organizers to hand out thousands of dollars over 17 years to local, non-profit organizations that support outdoor recreation, as well as $1,000 scholarships for students in Chilliwack School District.
Next year's 19th Around the Lake Give 'R Take trail race is scheduled for Saturday, October 15, 2022.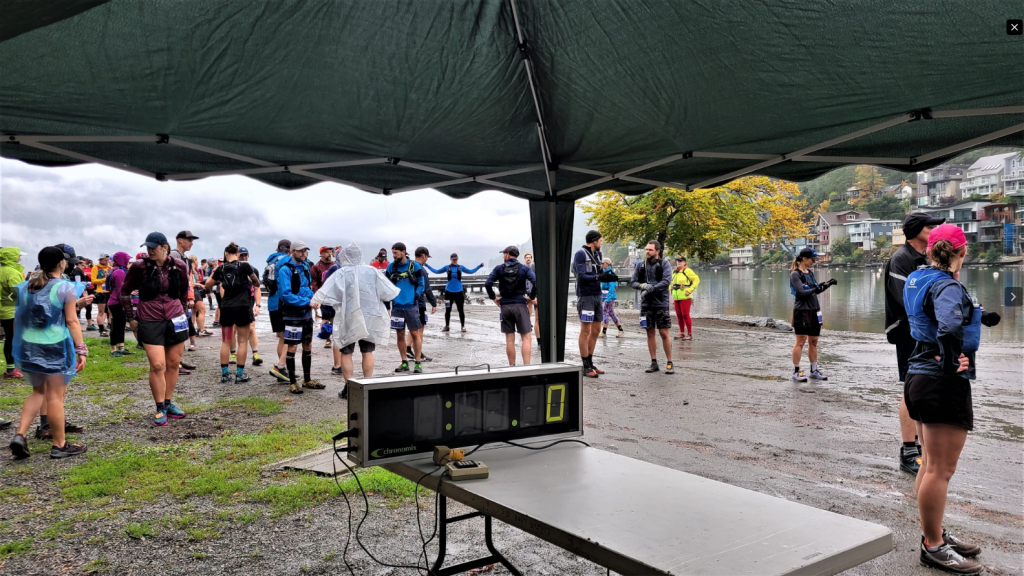 ORIGINAL STORY October 14 2021 – On Saturday (October 14th) will see the running of the 15th annual Give'r Take 30 Around the Lake trail race, where participants run around Cultus Lake. The event starts and finishes at Main Beach, but in between runners traverse hiking and mountain bike trails on Vedder Mountain, then some road down from Columbia Valley and by Lindell Beach, before going back on trails in the provincial park, exiting through SunnySide Campground and along to Main Beach. 
Some 150 participants are registered for the 30km solo event; 75 teams of two are entered for the relay event (with 17km and 13km+ legs), and 13 hardy runners will take on the 60km event – two loops of the course (and lake). The 60km ultra runners start by 5:30 Saturday morning, doing the first loop in the opposite direction, before joining the 30km and relay participants for the 9am start.
This year, is a slightly revised and new route from the previous 14 races, so a new course record will be set.
While the majority of the 313 runners come from the Fraser Valley and Lower Mainland, there are entries from as far away as Alberta and Saskatchewan. (In previous years participants have come from the USA and Europe.) They are supported by some 60 volunteers.
The 30km race starts at 9am; first finishers are expected to cross the line between 11:15-11:30am. Awards will be at the finish area at 1:30 pm.
More details at: http://aroundthelake.ca/ ; and Facebook page at: https://www.facebook.com/aroundthelakegivertake30/