Chilliwack – BC Housing is partnering with the Phoenix Drug and Alcohol Recovery and Education Society on a proposal to provide roughly 50 supportive homes and a 40-bed shelter for people experiencing homelessness in Chilliwack. This chosen location is ideal for the shelter and supportive housing as it close to public transportation, clinics, grocery stores and other services. 
This on the heels of the Portal Shelter, operated by Ruth and Naomi's, received a 90 day TUP extension ( and not 18 months as was first asked) to house some 48 at risk residents. Those include seniors.
A public engagement is this Tuesday and Thursday.
These facilitated sessions will begin with a presentation to share information on the proposed project, followed by a question-and-answer period.
Please sign up for one of the following sessions (space is limited):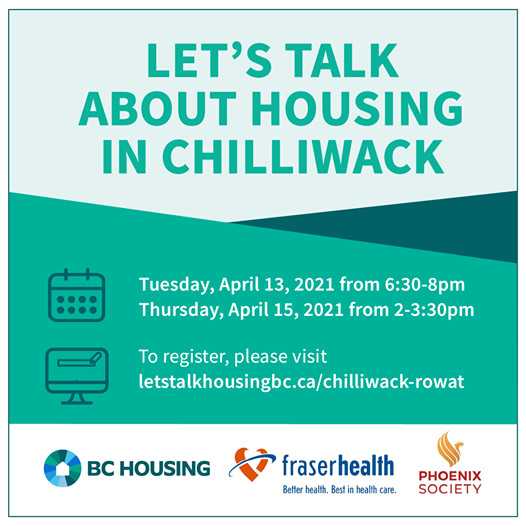 About the proposed project: 
The supportive housing and the shelter would be in one development, with cultural spaces, meeting rooms and kitchen.
The proposed supportive homes would be studio apartments, with a bathroom and kitchen.
This housing will provide supports including tenant support workers, life skills training, employment assistance, connection and referral to community services and support groups.
Residents have access to counseling, as well as health, mental health and substance-use services through Fraser Health.
The 40-space shelter would replace the temporary Portal shelter at 46293 Yale Road.
For supportive housing, applicants will go through a thorough assessment process, residents will sign a program agreement and will pay rent.  Priority will be given to our vulnerable citizens living in the Chilliwack.