Fraser Valley – Julia Tuchscherer's decision to sign with the University of the Fraser Valley women's basketball program will probably not come as a huge surprise to B.C. basketball observers.
It's well known, after all, that the Tuchscherer family's connection to UFV runs deep. Julia's father Al is in his 19th year as head coach of the Cascades women's hoops squad, sister Deanna is a standout forward with the Cascades, and mother Denise is a Cascades Hall of Famer who led the program to three national medals in the mid-1990s.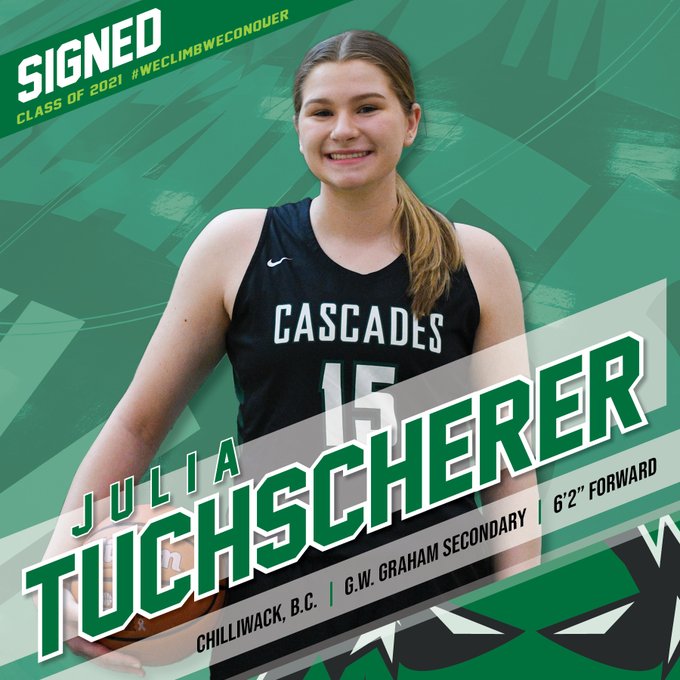 Yet it's the timing of Julia's arrival that might catch some off-guard.
The current 2020-21 school year was supposed to be Julia's Grade 11 year – she was originally on track to graduate as part of the Class of 2022. But as a high academic achiever who had worked ahead on her core subjects throughout her high school career… combined with taking the odd elective by correspondence in the summertime… combined with the opportunity to work ahead further during the COVID-19 pandemic with youth sports largely halted… and Julia found herself on track to finish high school this year.
Add it all up, and one of B.C.'s most decorated basketball prospects in her age group will tip off her university basketball career one year ahead of schedule.
"We got to the point where we realized, wow, she could complete her coursework this year, and it was either slow her down or let it play out," Al Tuchscherer said. "From a basketball perspective, obviously it's a big jump for anyone with the pace and physicality of the game, but Julia has been competing successfully with older kids her entire life. She is physically strong, has a great basketball IQ, and we think her skill set is as good as anyone in the current high school grad class. The other thing that will make the transition a bit easier is her familiarity with the team and coaches and having her sister there alongside her.
"To have your daughters want to play for you and be part of your program is such a privilege. I don't take it for granted that both Deanna and now Julia have chosen to play for me – I know it's not a common thing and I just hope I can live up to the expectations they have of me and the program. For our family, I think this is something we will cherish long after all of our basketball careers are over."
Julia Tuchscherer has been playing for the senior girls basketball team at G.W. Graham Secondary in Chilliwack, B.C. since she was in Grade 8, and helped the squad qualify for the B.C. high school championships three straight years (2018, 2019, 2020), highlighted by a pair of silver medals at the AA tournament (2018, 2019). She was a first team all-star at the provincial tourney in 2019.
Tuchscherer has also been a fixture with the provincial program, helping Team B.C. win the U15 national championship in 2018. The following year, her B.C. squad took bronze at nationals, and she earned a second team tournament all-star nod in the process.
Tuchscherer's exploits drew the attention of Basketball Canada – she was part of the cadette (U17) player pool in 2019-20 and attended an evaluation camp, but additional in-person opportunities were wiped out due to COVID-19.
In addition to her basketball abilities, Tuchscherer excels in the classroom. She's been an honours student at G.W. Graham from Grade 8 through to the present, and currently holds down a 4.0 GPA. She also earned community service pins in grades 8-10, and was the overall community service award winner in 2019.
"I'm really looking forward to playing at the next level," she said. "I've been watching the Cascades for such a long time, and even the past couple years, I've just been getting more excited to play at that high level with them."
Julia said she's looking forward to playing alongside her sister again, for the first time since the 2018-19 season at G.W. Graham. The Tuchscherer sisters have differing skillsets – Julia, already an inch taller than her elder sibling at 6'2", is more of a true post player, whereas Deanna, the reigning Canada West rookie of the year who is currently playing professionally in Hungary, plays more on the perimeter.
With Deanna not consuming athletic eligibility this year with the Canada West season cancelled due to COVID-19, and with Julia arriving a year ahead of schedule, the sisters will have four years to play together at UFV, rather than two as they would have expected otherwise.
"We have that connection as sisters," Julia said, alluding to her natural chemistry with Deanna on the court. "In practices, there's also that sister competition between us. We might go a bit tougher on each other, which makes us both better."
Julia noted that while her dad has given input into her individual training throughout her youth, it's been years since she's been coached by him in a team setting.
"I know he won't go easy on me," she said with a chuckle. "He'll push me, Deanna will push me, the other players will push me as well. It'll be nice."
"This is a huge signing for us on several fronts," Al Tuchscherer summarized. "Julia is at the top or near the top of the 2022 recruiting class in B.C. so to have this type of talent in our program is very significant. She fills a need in that we have been a little undersized in the post the past couple of years. We had a great season in 2019-20, but in the end we were eliminated by a team that was more physical than us. This is a step towards addressing that."