Fraser Valley/Vancouver (With files from Global/Classic Rock/NPR) – COVID-19 is affecting various large gatherings. Rock bands Queen, Slipknot and Whitesnake are cancelling or postponing shows due to the outbreak.
The SXSW Arts and Tech Festival in Austin Texas is cancelled.
Rogers Arena and the Vancouver Canucks released a statement expressing concern and putting up more sanitizing stations.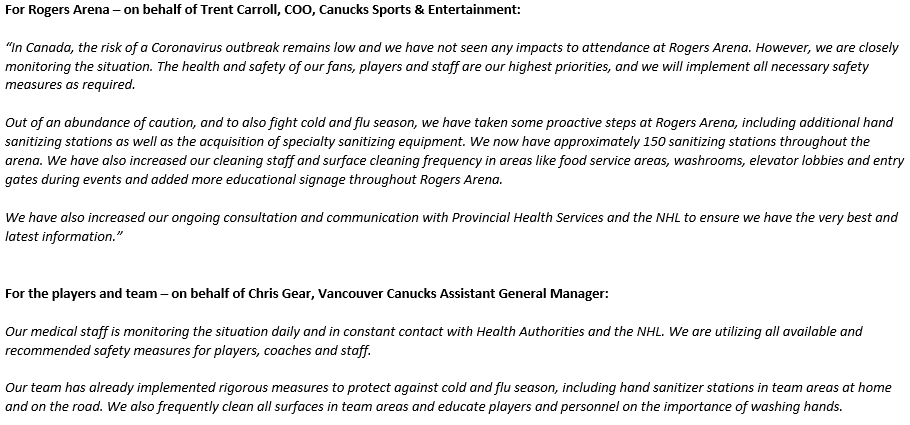 Barry Douglas of the Chilliwack Chiefs referred FVN's info request to the BCHL media office as the playoffs are well underway.
Provincial officials admit that tourism and trade show dollars will take a hit as the outbreak spreads and many people don't want to be in large crowds for fear of getting sick.
The Business Council of British Columbia is warning the province to "buckle up," as it downgrades its 2020 forecast for B.C. amid economic turbulence stemming from COVID-19.
"So we should have said buckle up and keep calm." said council chief economist and vice-president Ken Peacock.
In January, the council had predicted economic growth of about two per cent for the year. Now 1.4 to 1.5 per cent is more realistic.
The Asia-Pacific Association for International Education has already said it is postponing a March conference expected to draw about 2,500 people to Vancouver amid concerns about possible spread of the virus.
The Vancouver TED talk event scheduled for next month is also mulling its options. It may be a digital only event.
And in Europe…
The Vatican said that on Sunday the pontiff will not address crowds from a window overlooking St. Peter's Square, and will also not hold his general audience from there this Wednesday.