Harrison – Get into the holiday spirit with the second annual Lights by the Lake! This free attraction will give you that warm Christmas feeling as you stroll along a Christmas light display down the waterfront of Harrison Hot Springs.

The Plaza will be decked out with wonderful weeping Christmas trees and lights and decorations to get you in the Christmas mood.

Lights by the Lake highlights Harrison's longstanding history of the elusive Sasquatch, which has been passed down through the oral traditions of the Sts'Ailes Nation. Our Holiday displays focuses on naturally Harrison, highlighting local wildlife and the Sasquatch participating in various activities available in Harrison Hot Springs; i.e. hiking, biking, paddling.

All these displays are custom built and will be lit from dusk to 11:00 PM. The Lights by the Lake Holiday display lights up 1 km waterfront of Harrison Hot Springs along the promenade.

The grand opening of Lights at the Lake will take place on November 23 from 4:30-7:00 PM; with the lights turning on at 5:30 PM. There will be free hot chocolate to attendees. **While supplies last. The schedule of events is below: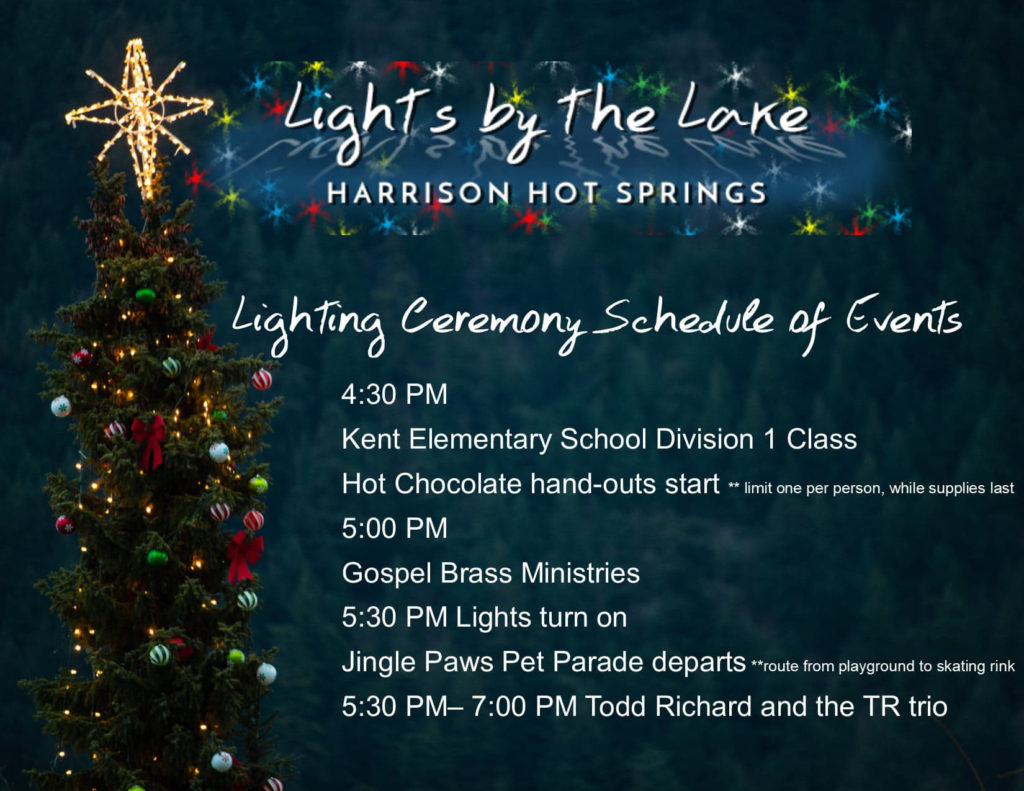 ALSO – The new Outdoor Skating Rink – this year Lights by the Lake includes a new outdoor synthetic ice rink. Bring your skates or rent some from the concession and enjoy our outdoor rink by the lake. Open daily, access to the rink is free but there is a small charge for skate rentals.

Christmas Tree Trail – To enhance your Holiday experience, stop into one of the cafes or restaurants for your favourite seasonal beverage, such as a peppermint mocha, to take with you as you enjoy the light display. Or pick up a Christmas Tree Trail guide to see all the Christmas Tree displays in Harrison.