Rosedale – Call it damage control.
The Rosedale Harvest Festival went back to social media on Monday, to further state their case after the Chilliwack Pregnancy Care Centre, were handing out controversial gift bags to kids. They included a pro-life message and a plastic fetus.
Social media went red hot as parents were outrages. The Parade and Festival organizers says, please take this issue up with the Chilliwack Pregnancy Care Centre.
In response to the recent comments and media coverage on last week's Rosedale Harvest Festival, the organizers would like to offer a clarification:
1. As parade organizers, we would like to state again that we were unaware of the fact that plastic fetal models would be distributed by a parade participant's float. Parade participants were responsible for their own materials. In the past, participants have distributed candy, pens, or other non-contentious items; we expected the same this year. We understand that some people felt uncomfortable with the distribution of fetal models at a family festival. These concerns have been heard; going forward, as organizers of this festival, we will do our best to ensure that any parade materials distributed by parade participants will work towards the festival's goal of fostering a sense of community spirit.
2. Many commenters are stating that religious, political, or anti-abortion literature was being passed out, with some claiming that models or representations of aborted fetuses were part of the material. We would like to clarify that this was not the case. We have confirmed that the parade participant passed out medically accurate plastic fetal models of human beings at 12 weeks gestation in the womb and were not inherently religious, political, or anti-abortion in nature.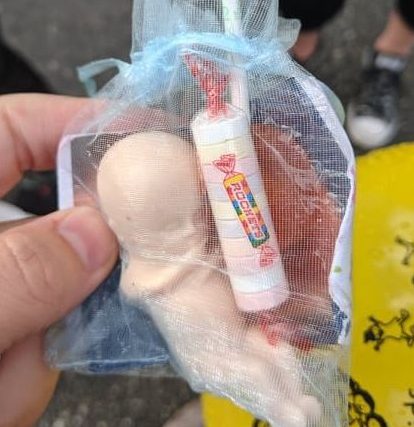 3. Inaccurate and/or abusive comments from either side of the discussion will be removed from this(Facebook) page as they violate the community spirit the Rosedale Harvest Festival strives to foster.
4. Please direct any further questions regarding this issue to the Chilliwack Pregnancy Care Centre, the parade participant that distributed these items.
We regret that this issue has taken away from the community spirit that the Rosedale Harvest Festival aims to foster.
Vancouver media as well as across the country picked up on this event on Saturday and for the Festival, it is not what they want from a PR standpoint.