Chilliwack – Something happened during the Tuesday April 5, 2018 Chilliwack City Council meeting that almost slipped under the radar. During discussion on what will be the fate of a century old home in Sardis (Pearson House), the city of Chilliwack made a move towards a hard and fast mandate to preserve heritage structures. This contingent on achieving criteria.
In the past decade, a number of high profile buildings met the wrecking ball, as they were not going to get heritage status and therefore some protection. That list included the Paramount Theatre, the Irwin Block and laugh if you will, the old Empress Hotel.
Pushed along by Councilors Kloot, Knott and Lum, a Heritage Action Committee and plan has been in motion.You have a say in an on line survey with Saturday September 28th , being the deadline.
From April 2018 on Facebook: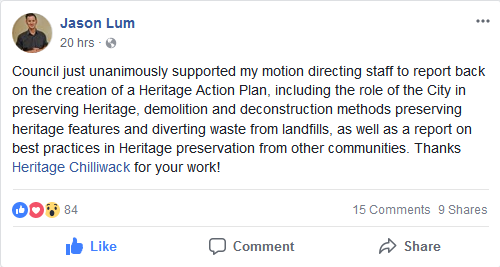 The City of Chilliwack has initiated the planning process to develop a 5 to 10 year Heritage Strategic Action Plan, to develop a clear vision and direction for an integrated community heritage program, taking into account community values and stakeholder roles.
The Heritage Strategic Action Plan Survey can be found here.