Chilliwack – One of the most distinctive and entertaining Canadian bands of the last 40 years – a nostalgic favourite!
Doug and the Slugs celebrate their 40th anniversary at the Chilliwack Cultural Centre, Friday October 18.
Ticket Info can be found here.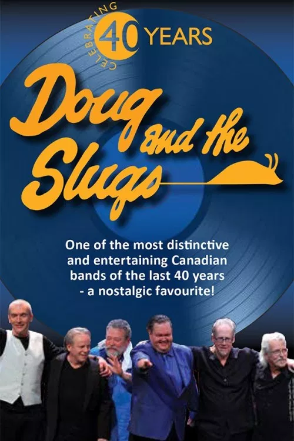 Known for their upbeat musical style, musicianship, and off-beat stage antics, Doug and the Slugs have been a staple of the Canadian music scene for decades. Formed in Vancouver in the late seventies, the band had underground success and critical acclaim throughout North America and helped launch the video era with Slug videos among the first getting heavy rotation on MTV. Ted Okos and the original slugs, John Burton, Simon Kendall, Steve Bosley, Wally Watson, and Richard Baker rekindle all the charm that made them so popular. Classic hits from the 1980s, most notably Too Bad, Who Knows How To Make Love Stay, Making It Work and Tomcat Prowl are sure to take you on a nostalgic journey down memory lane in this fantastic show.