Vancouver – Losing sports teams always cause heads to roll. Players are traded, coaches are fired.
When the President and Sporting Director is canned, you know there are problems.
The Vancouver Whitecaps have not performed will on the pitch in recent years (they entered the MLS in 2009). Combine that with the scandal that angered fans. Alleged mistreatment of the now defunct Whitecaps women's team( 2002-2012, with specific concerns from 2008).
President Bob Lenarduzzi is now unemployed (although he is supposed to be retained as a "liaison".) He has been associated with the 'Caps for 45 years from the NASL days to now. He and his brother were part of the 1979 Soccer Bowl Champs.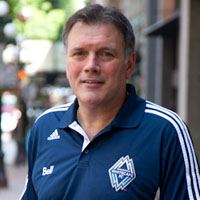 In their media statement: Vancouver Whitecaps FC announced on Friday that the club has opened an extensive global search to hire a sporting director who will lead the technical direction of the club at all levels. The sporting director will report to ownership, eliminating the role of president from the club structure.

"These are exciting times in MLS with the league growing at an unprecedented rate both on and off the pitch," said Jeff Mallett, Whitecaps FC co-owner. "We are committed to taking the 'Caps to the next level, to being championship contenders. We've invested heavily in our soccer operations, from facilities to coast-to-coast soccer programming for boys and girls. Bringing in a sporting director is the next step to take the club forward."

The sporting director will be a proven leader who brings exceptional soccer expertise to the club. The individual will have a vast understanding and knowledge of scouting and recruitment in the global market, maximize the advantages of a sport performance model, and embrace youth development.

With the change in club structure, president Bob Lenarduzzi will transition to a new role as club liaison. Building on his 45 years of experience with the club, Lenarduzzi will work closely with ownership and club executives to represent the club locally, nationally, and internationally.

"Whitecaps FC would not be Whitecaps FC without Bob Lenarduzzi," added Mallett. "His knowledge, relationships, and history with this club is unparalleled and will be invaluable as we enter our next chapter."