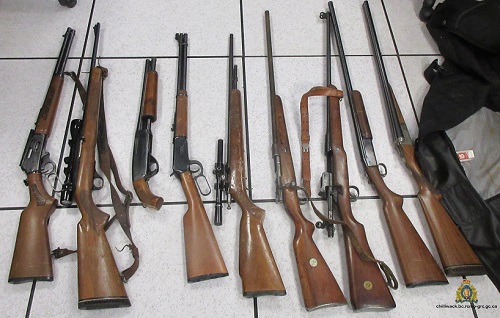 Chilliwack – One person is charged after firearms and stolen property were seized during a RCMP investigation of a break and enter.
The investigation stemmed from a report made to the Chilliwack RCMP in May 2019 of a break and enter at a home in Lindell Beach. Chilliwack RCMP Crime Reduction Unit (CRU) investigators quickly identified a suspect.
Police gathered evidence to link an address in the 46000-block of Reece Avenue to the suspect.
On the afternoon of June 14, 2019 nine rifles associated to the break and enter were seized from a vehicle by police during a traffic stop in the 8800-block of Young Road. One person was taken into custody. Later the same afternoon the suspect was arrested by RCMP near the Reece Avenue address.
At approximately 6:30 p.m. CRU supported by general duty officers executed a search warrant of the address where police seized a rifle and property associated to the Lindell Beach break and enter.
Andrew Scott Charpentier, 27, of Chilliwack is charged with break enter and theft, possession of property obtained by crime, possession of firearm or ammunition contrary to prohibition order, possession of a firearm knowing its possession is unauthorized, and careless storage of firearm. Mr. Charpentier remains in custody pending a future court date.