Chilliwack/Hope – Three suspects are in custody while the RCMP continue their investigation of a home invasion from over the weekend.
Early Saturday Morning (@5:30AM, March 23) RCMP received a call to report 3 individuals impersonating police officers had broken into a home and restrained a resident in the 5100-block of Falls Court (Near The Falls Golf Course). Chilliwack general duty officers and the Lower Mainland District Integrated Police Dog Section (IPDS) immediately responded to the address as a white SUV- with three occupants' inside- was being driven away from the address.
A spike belt deployed by officers failed to stop the suspect SUV which also collided with a police vehicle before travelling onto Highway 1(between Annis and Prest Roads). The badly damaged SUV covered a short distance heading westbound in the eastbound highway lanes until it came to a rest after crashing into a highway median.
Three suspects were promptly located Inside of the police perimeter the first individual taken into custody at the wreck by IPDS, the second after a brief foot race with officers, and the third when located hiding in nearby bushes.
Photos and video from Clayton Steinebach were posted to Facebook as he was going to work The video went viral on television news stations.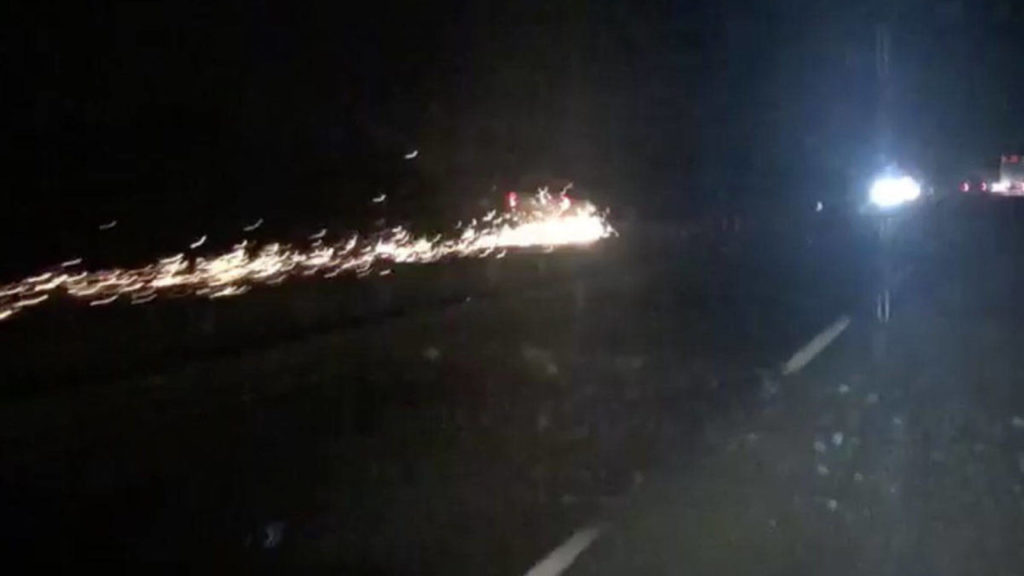 RCMP investigators believe the incident was targeted.
This wrong way down a highway was just hours after a stolen Bentley was spotted going down the wrong side of the Coquihalla Highway. That video also went viral. That investigation continues.