Fraser Valley – UPDATE JANUARY 14 – Crimestoppers posted to Facebook on Monday morning that Rourke Desmanche has been captured.It was suspected that he was on the way to the Chilliwack area , supervided by Corrections Canaa. He managed to slip away. Victoria police arrested him on Sunday.
Victoria, BC – A man wanted on a Canada-wide warrant was arrested by a VicPD K9 officer and Patrol officers on Sunday, January 13th.
Rourke Desmanche was spotted in the 700-block of Pembroke Street just before 1:00 a.m. Sunday morning by a VicPD K9 officer working with the Patrol shift. The officer stopped Desmanche after recognizing him from his Canada-wide warrant for parole violations stemming from a homicide conviction.
At first, Desmanche made motions that led the officer to believe that he was preparing to flee, so the officer indicated that a police dog would be deployed should he run. Desmanche then complied with the officer's directions and was taken into custody without further incident. Additional Patrol units arrived to cover the K9 officer during the arrest.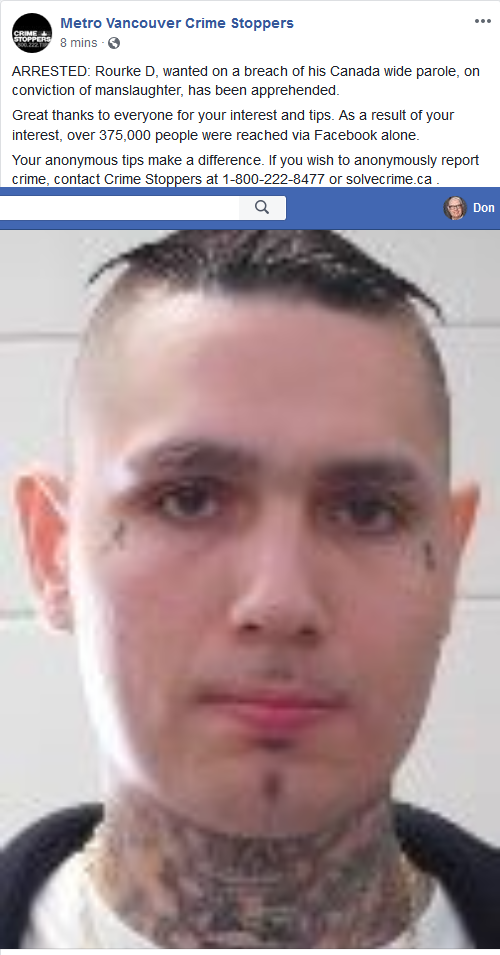 ORIGINAL STORY JANUARY 11, 2019 – Corrections Canada and Metro Vancouver Crimestoppers posted to Facebook on Thursday, the picture and background of Rourke Desmanche.
He was convicted of manslaughter in the 2010 shaking death of his 10 week old son in London, Ontario. (Desmanche was sentenced to 10 years in prison in 2013, minus time served, for assault and manslaughter ).
The 29 year old man is 6'4″, 200 pounds with black hair, brown eyes, tattoos on face and neck, "A" at right eye, $ at left eye.
Desmanche is wanted by Corrections Canada. the warrantr for his arrest was issued January 10. He has convictions for manslaughter, assault, threats & weapons.
He was last known to be in the Chilliwack area under supervision by Corrections Canada.
You can report anonymously to Crime Stoppers 1-800-222-8477 or solvecrime.ca