Mission – JANUARY 8 UPDATE – On Tuesday, in a tersely worded Facebook post, the organizers of the Iron Mountain Music Festival in Mission announced that the 2019 event is cancelled but did not give a reason why.
The 2018 show, it's first, featured Elvin Bishop and the Fabulous Thunderbirds. While fans and critics raved about the music, there was wonder if there would be enough financial where-with-all to continue. FVN has reached out to the organizers for comment.
The Facebook page can be found here.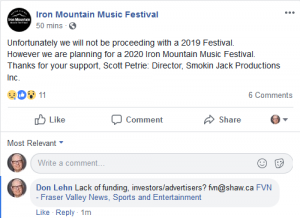 ORIGINAL STORY – JULY 13, 2018 — If you love the blues and you wanna dance, this is the festival for you.
It's in Mission, so it's not a long drive!
On July 14 and 15 at the Eighteen Pastures Golf Course in Ruskin (Mission), this will be the first annual Iron Mountain Music Festival featuring Rhythm & Blues music. It's being held on private property (Eighteen Pastures Golf Course) so let the party begin.
It's gorgeous. They have put together a great line up this year and will continue each and every year to follow.
Saturday's Headliner is Elvin Bishop and on Sunday, The Fabulous Thunderbirds.
The website can be found here.