Vancouver/Fraser Valley – This won't be much of a surprise to many.
An end-of-year real estate survey of BC Notaries shows an overall decrease of first-time home buyers in most regions of the province in 2018. It also found that first-time home buyers who purchased homes were more likely to get financial support from parents to meet down payment requirements than in previous years.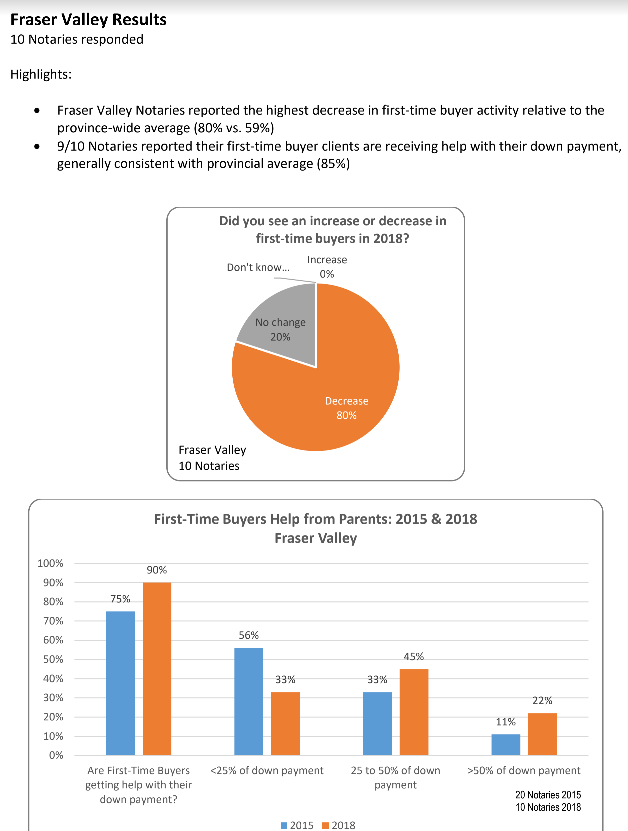 BC-wide survey highlights:
59% of Notaries saw a decrease in first-time buyers
83% of Notaries said most of their first-time buyers are getting some help with the down payment
76% of Notaries said home prices are an issue in their community
The top 3 factors Notaries believe are impacting their local market are: increased mortgage restrictions, rising interest rates, and lack of supply.
The 174 Notaries who participated in the internal online survey cited increased mortgage restrictions and rising interest rates as having the biggest impact in most communities, followed by lack of supply,
speculation and vacancy tax (where applicable), and other factors.
"While it's great to see that many first-time buyers are finding ways to get their first home, increased restrictions and the potential for higher interest rates is making some cautious or decide to wait on the sidelines to amass more of a down payment," said Daniel Boisvert, a Notary in Delta and President of BC Notaries Association.