Abbotsford – While most of us were heading for bed after the Municipal Elections, construction crews were busy with traffic crews. A stretch of Highway 1 in Abbotsford was closed to traffic late Saturday night and early Sunday morning, for the installation of the new pedestrian cycle bridge that will allow you to cross the Highway at Salton Road. Access to UFV from King Road to Marshall Road is now a reality.
Abbotsford Councilor re-elect Dave Loewen provided the pictures.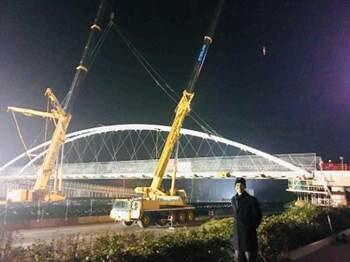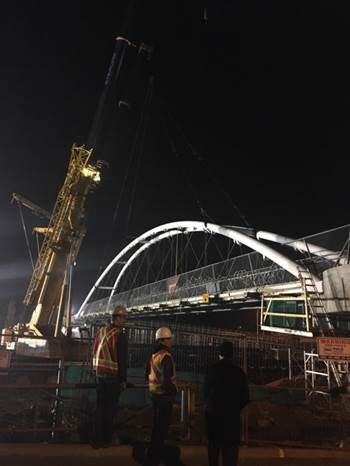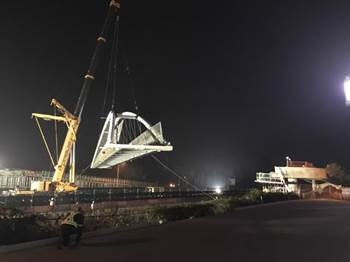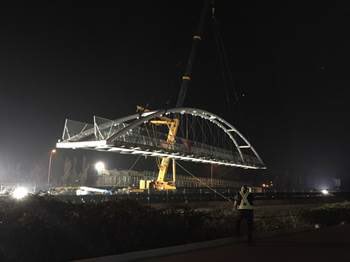 Abbotsford – ORIGINAL STORY – OCTOBER 19  – Highway 1 between McCallum Road and Sumas Way, will be closed to facilitate the lift and placement of the Salton Road Pedestrian/Cycle Bridge on Saturday, October 20 from 12AM (midnight) to Sunday, October 21 to 6AM, between Sumas Way and McCallum Road Intersections.
Westbound Detour: Westbound traffic will exit at Sumas Way (Highway 11) – Exit 92, travel along Marshall Road and rejoin Highway 1 at McCallum Road
Eastbound Detour: Eastbound traffic will exit at McCallum Road – Exit 90, travel along Marshall Road and rejoin Highway 1 at Sumas Way (Highway 11)
Salton Road Roll Plan – pdf format
Salton Road Pedestrian/Cycling Bridge Information Boards – pdf format