Surrey – City Council approved the Congestion Relief Strategy, 2019 – 2023, at Monday's regular Council Meeting. The Strategy will deliver approximately $360 Million in planned and advanced transportation projects within the City's 10-Year Servicing Plan (10-YSP), together with new additional projects. With focused delivery of road building initiatives and by taking a Complete Streets approach to road design, Surrey's Congestion Management Strategy is expted to deliver on its goal of providing a balanced approach to increase trip reliability and predictability no matter how Surrey residents choose to get around.
Key outcomes of the Congestion Relief Strategy, 2019-2023 include:
120 km of lanes added to the Surrey road network
14 km of new protected cycle tracks and multi-use pathways
13 intersections with capacity improvements
9 km of road improvements not included in the 10-YSP
5 km of long term 10-YSP road projects advanced
5 new/improved bridges/interchanges with Highway 99 in South Surrey (subject to an agreement with the Ministry of Transportation and Infrastructure on cost-sharing)
Detectors installed to gather travel time data for better decision-making and enhanced real-time travel information for drivers.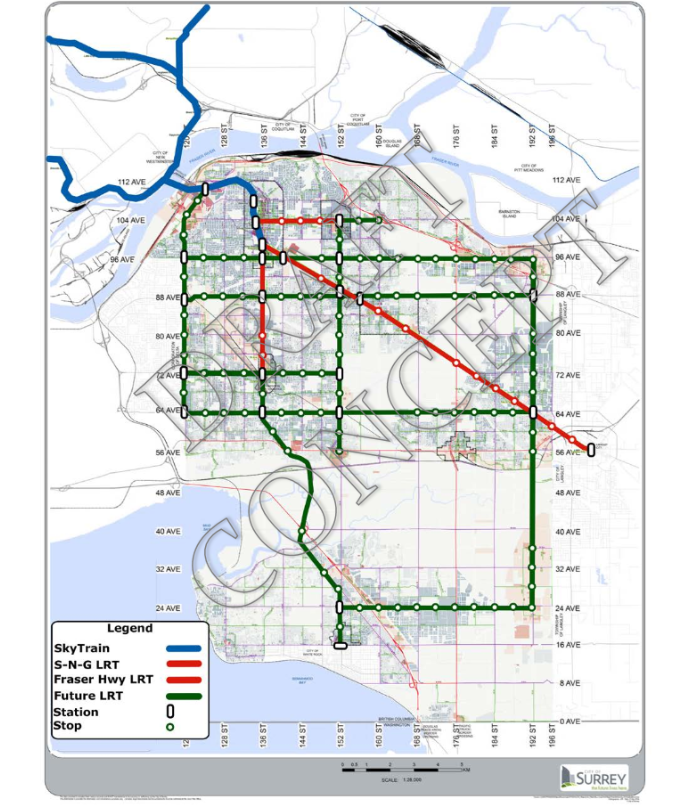 Note that on the map above, SNG LRT stands for Surrey Newton Guildford Light Rapid Transit.
The proposed Congestion Relief Strategy, 2019-2023 will deliver projects identified in the 10-YSP, advance approximately $30 Million in long-term projects and add more than $80 Million in additional projects. Staff will work on refining these estimates and identifying funding sources for this budget shortfall and will report back to Council during the 2019 budget process with options.
Obviously any LRT plans won't happen overnight as there are many tiers of funding that have and must be (in the future) be put in place from all levels of government.
The key to this is the fact that by 2040, Surrey City will have a larger population that the City of Vancouver, and transportation will always be a key issue.
More information from the City of Surrey can be found here.
As expected , SkyTrain for Surrey – NOT LRT is not in favor of the transit model and continues to push for a Skytrain extension to Langley. Their Facebook page can be found here.