Richmond – Recently, WorkSafe BC released two videos on re-purposing shipping containers and the dangers involved.  These containers are being used for modular housing of the homeless and other affordable housing needs.
In those cases, the containers have been greatly modified so that air flow and safety have been taken into consideration.
However, these same containers, if not modified, can be a a disaster waiting to happen. the containers are water tight for shipping security purposes. If ventilation is not addressed, combustibles stores inside, say you were using the container as a tool shed or garage, could create huge problems.
Vapours or gases from common flammable or combustible substances, when combined with an ignition source in a shipping container with little or no ventilation, can produce a catastrophic incident. A leak of just 1 kilogram of propane, for example, can rupture a closed shipping container; the propane tank on an average home barbecue holds 9 kilograms. A full tank can generate the same explosive force as 100 kilograms of TNT.
With spring coming, using a previous worked container looks good on paper, but make sure you don't have an accident waiting to happen.
Here are two examples:
Shipping Container Explodes, Injuring Worker
The Hazards of Shipping Containers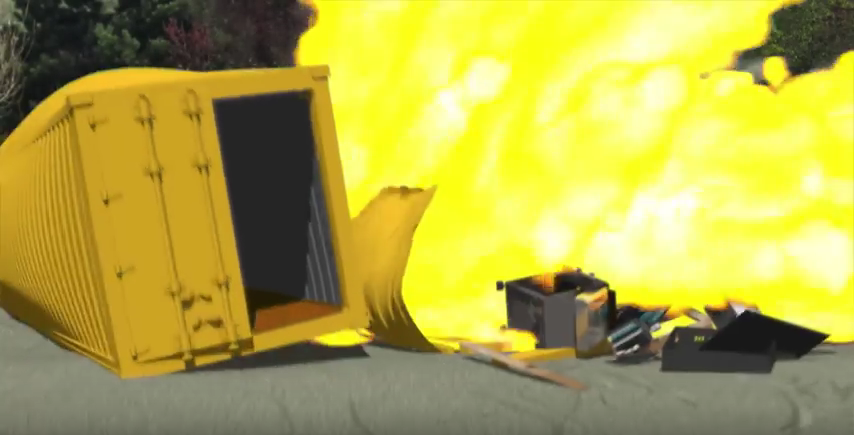 In 2013, in Saanich, a propane barbecue stored inside a shipping container caused an explosion that blew one of its 113-kilogram doors 40 metres, into a public park. (This video illustrates the chain of events.)
In a tragic 2011 incident, a volunteer firefighter was struck and killed by a door that blew off a shipping container while he was fighting a fire in the next building. Afterward, investigators found that the container was being used to house a collection of gas-powered tools. When the fuel vapour was exposed to extreme heat, the container exploded.
Other risks can arise from the original use of a shipping container. The floorboards may have been treated with toxic chemicals to protect cargo during shipping, or chemicals may have spilled in transit, and workers can be overcome by exposure to these chemicals.
Employers must conduct a risk assessment and include these safety controls:
Identify whether any flammable/combustible products are being stored in a container, and if so, move them to a well-ventilated location
Train workers in the risks and put up signs to ensure appropriate storage procedures
If storing flammable/combustible items in a container is unavoidable, modify the container by improving ventilation, then remove any possible sources of heat or ignition, and minimize the number of workers nearby
List the contents of your container(s) in your fire-safety plan so first responders know the potential hazards
Find out if the floor has been contaminated with toxic chemicals. If it is, clean or replace the floor. When doing so, keep all doors open and ensure workers wear personal protective equipment such as appropriate respirators
Used safely, shipping containers can be repurposed as storage compartments, office spaces, electrical rooms, welding and painting operations — and even living spaces.