Women's Volleyball: Mariners deny Cascades in PACWEST semifinals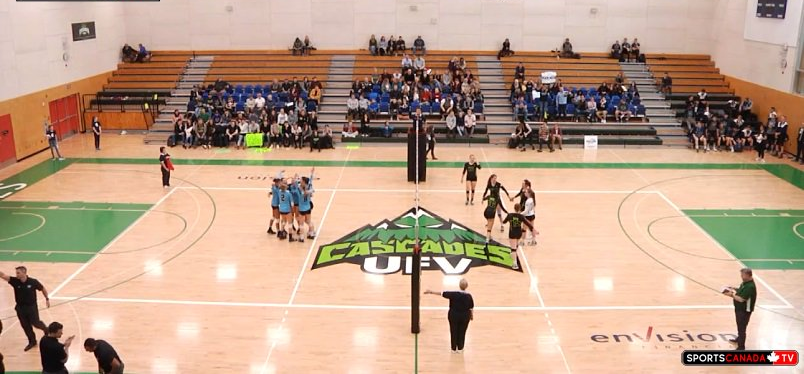 The Vancouver Island University Mariners punched a pair of tickets – to the PACWEST gold medal match and to the CCAA national championships – by virtue of a four-set win over the host UFV Cascades in the conference semifinals on Friday afternoon.
Playing at UFV's Envision Financial Athletic Centre, the Mariners started strong, taking the first set 25-21, only to watch the Cascades come roaring back to dominate the second 25-14 with Amanda Matsui leading the charge.
VIU's strong blocking, combined with UFV's passing struggles, swung the momentum back to the Nanaimo squad, and they took the third and fourth sets by scores of 25-16 and 25-14.
The Mariners advance to the gold medal match (Saturday, 6 p.m., EFAC), where they'll face the winner of Friday's late semifinal featuring the Douglas Royals and Capilano Blues. They also assured themselves of a spot in the CCAA national championships, which will be hosted by Grande Prairie Regional College, March 7-10.
The Cascades, meanwhile, will play for bronze at 1 p.m. Saturday vs. the Douglas-Capilano loser.
"We definitely passed a little better and were offensively strong in that second set, for sure," UFV head coach Mike Gilray said afterward. "With a blocking team like theirs, and when our passing ended up finishing how it did, it puts a lot of pressure on your hitters. Even just trying to recycle over those blocks is hard. Good on the hitters for trying to do some of that, but they're a big team.
"When we're passing at the level we were, they're able to be in their transition offence, and it's tough to stop them."
Middle Taylor Wickson was the Mariners' player of the match, keying her team's strong defensive performance at the net with six blocks and adding eight kills. Mikalya Wagner led the VIU offence with 19 kills, Danielle Groenendijk had 13, and Sadie Wilson had 10.
Rookie left side Matsui paced the Cascades in kills (12), digs (16) and blocks (four), and was named her team's player of the match. Kim Bauder had eight kills and Keira Fisher chipped in with seven for the Cascades. Setter Olivia Heinen registered 34 assists, and Bauder (13) and Cassidy King (11) joined Matsui in double-figure digs.
"These girls have worked extremely hard for this opportunity (to go to nationals), and to have it come to an end today is tough," Gilray said. "But every time we've asked this group to respond, they've done an amazing job. We've been a bit of an up-and-down team this year with consistency, but when they've come off a loss . . . it's usually one of our best volleyball games. We're hoping for that turnaround again (in the bronze medal match). They're a competitive bunch."
Wrestling: Four Cascades advance to gold medal matches at nationals
A productive opening day at the U SPORTS national wrestling championships in Sault Ste. Marie, Ont. saw the University of the Fraser Valley Cascades advance four wrestlers to Saturday's finals.
Reigning U SPORTS heavyweight champ Brad Hildenbrandt (men's 120 kg) is in the gold medal match once again, and he's got company. Parker McBride (men's 54 kg) and the Godinez Gonzalez sisters, Karla (women's 55 kg) and Ana (women's 63 kg), will also grapple for gold on Saturday at Algoma University.
Jacob Torres (men's 61 kg) is also in medal contention – he'll be in the bronze medal match for his weight class. Additionally, Karan Dhillon (72 kg) and De'Andre Williams (men's 76 kg) are in fifth-sixth placing matches
"Out of seven athletes, we got four into the finals and five into medal matches," Cascades head coach Raj Virdi enthused. "It's great. Two of our veteran athletes are in the finals, and two rookies. As a group we've done really well, but those four have had really strong tournaments."
Hildenbrandt cruised through his first two matches, winning by technical superiority without surrendering a point. His third opponent, Frederick Choquette of the Concordia Stingers, proved a tougher test, and he'd beaten Hildenbrandt on two prior occasions at non-U SPORTS competitions. But Hildenbrandt, in Virdi's words, was "dominant," and prevailed 10-5. He'll face Richard DesChatelets of the Brock Badgers in the final on Saturday.
McBride won both his matches against foes from Ontario schools to punch his ticket to the final. There, he'll face his nemesis, Jordan Wong of the Alberta Golden Bears. The two have wrestled four times this season, with Wong winning three times including the Canada West gold medal match.
Karla Godinez Gonzalez, the Canada West female wrestler of the year, opened the tourney with wins over Alberta's Ferris Sandboe (8-0) and Concordia's Kaya Dube Snow (10-0). She finally surrendered her first points of the post-season in her third match against Guelph's Chelsey Sicard, but nevertheless won it 8-2. She faces the No. 1-ranked wrestler at 55 kg, Emily Shaefer of the Brock Badgers, for the gold.
Ana Godinez Gonzalez, the Canada West female rookie of the year, was pushed by Natasha Doroodian of the host Algoma Thunderbirds in her opener, but fended her off 10-6. She won her next two matches by technical superiority. Like her sister, Ana faces a No. 1-ranked opponent from Brock in the final: Jessica Brouillette.
Day 2 begins on Saturday, Feb.. 24 at 11 a.m. ET / 8 a.m. PT. Medal matches begin at 12 noon ET / 9 a.m. PT with bronze medal hopefuls first, followed by gold medal matches at 2 p.m. ET / 11 a.m. PT.
The Cascades men sit sixth in the team standings after Day 1, while the women are eighth. Complete team standings are below.
TEAM STANDINGS
Men
Brock Badgers – 77 points

Concordia Stingers – 50 points

Alberta Golden Bears – 43 points

Guelph Gryphons – 34 points

Saskatchewan Huskies – 28 points

Fraser Valley Cascades – 27 points

Regina Cougars – 26 points

McMaster Marauders – 25 points

Calgary Dinos – 20 points

Lakehead Thunderwolves – 16 points
Women
Brock Badgers – 61 points

Alberta Pandas – 32 points

Calgary Dinos – 26 points

Concordia Stingers – 25 points

Saskatchewan Huskies – 21 points

Regina Cougars – 20 points

Lakehead Thunderwolves – 16 points

Fraser Valley Cascades – 16 points

Guelph Gryphons – 15 points

York Lions – 11 points