Men's Basketball (Dan Kinvig, UFV Athletics): Bisons top Cascades in regular-season finale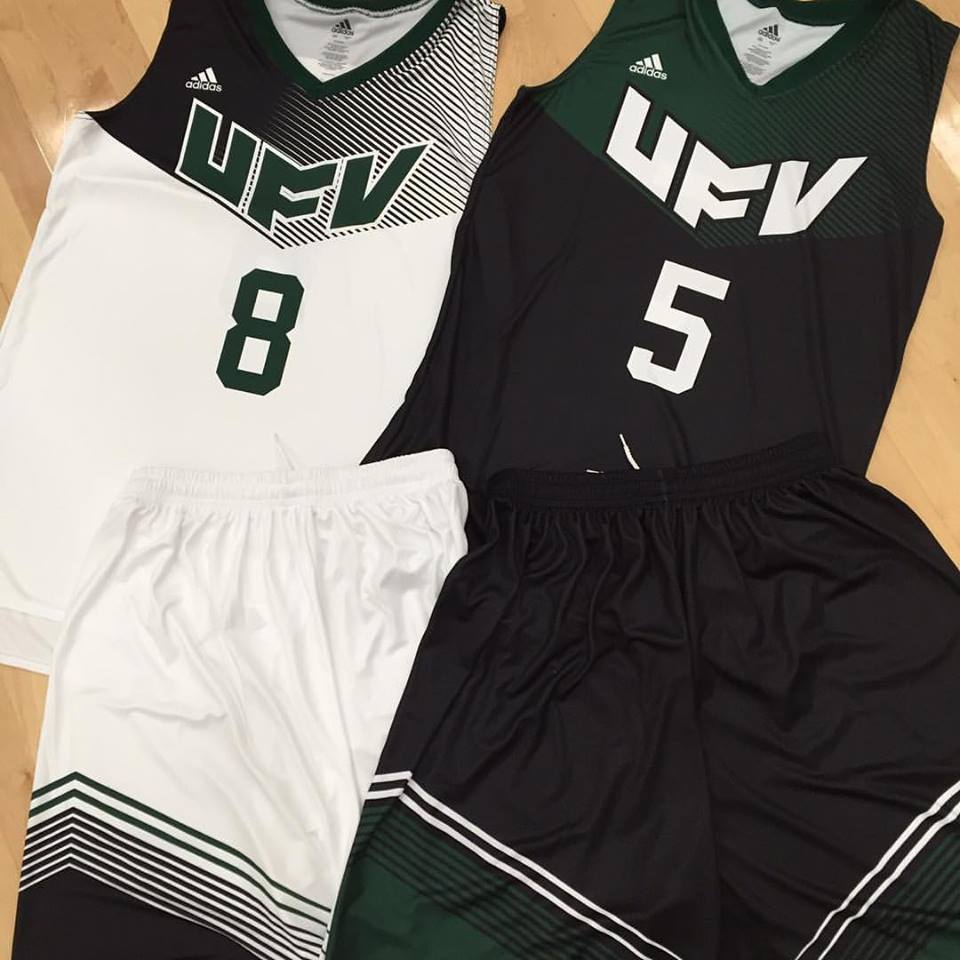 The University of the Fraser Valley men's basketball team wrapped up its 2017-18 campaign with an 82-66 loss to the Manitoba Bisons on Saturday evening at the Envision Financial Athletic Centre.
Bisons senior guard Justus Alleyn sewed up the Canada West scoring title, racking up a game-high 25 points to edge Saskatchewan's Lawrence Moore by the slimmest of margins. He scored 481 points over the course of the campaign for a 24.1 points-per-game average, while Moore finished at 480 (24.0 ppg).
Manitoba (12-8) is playoff-bound and will be the No. 6 seed in the Canada West draw. They'll host the No. 10 Brandon Bobcats this coming Friday (7:30 p.m. CT).
The Cascades (5-15) finish outside the post-season picture for the first time since 2009. They were led by forwards Mark Johnson (16 points) and Matt Cooley (10 points, 10 rebounds) on Saturday.
"I think we came a long way from the beginning of the year," UFV head coach Adam Friesen said. "We knew what this season was going to be about – gaining experience and learning the league for almost our entire team. Now our quest to take these experiences and grow in them will begin in the next couple weeks."
The Bisons opened the game on an 11-2 run, and answered every Cascades run with one of their own. James Wagner chipped in with 16 points for the visitors, and Keiran Zziwa (11) and Cameron O'Hara (10) also scored in double figures.
Jordyn Sekhon scored nine points off the bench for UFV, accounting for his point total on a trio of three-pointers. Parm Bains and Sukhman Sandhu had eight points apiece. Ball security was the Cascades' Achilles' heel – they had 20 turnovers, while the Bisons coughed it up just three times.
"I thought we played well," Bisons head coach Kirby Schepp said, reflecting on a weekend sweep which included a 67-46 win over the Cascades on Friday. "Certainly tonight, I thought we played well at both ends. Last night, we played well defensively but not so great offensively.
"One thing about Fraser Valley is, like the name Cascades, they move the ball so well. They're probably one of the best teams at their ball movement and passing, and they make it really tough for you defensively. So I was really happy with the way we contained that a little bit, and defended them reasonably well. It was all about treating this like a playoff game. We want to be playing playoff basketball."
Women's Basketball: Cascades blow out Bisons, clinch playoff spot on last night of regular season
The University of the Fraser Valley women's basketball team punched its playoff ticket thanks to arguably its best performance of the season – and a big assist from the Brandon Bobcats.
Taking on the Manitoba Bisons in a must-win game at the Envision Financial Athletic Centre on Saturday, the Cascades had outstanding energy from the opening tip and rolled to an 80-56 victory.
That wasn't the final piece of their playoff puzzle, however. The Cascades also needed the Bobcats to defeat the Thompson Rivers WolfPack on the road in Kamloops, and Brandon obliged, clawing out an 81-73 triumph.
Those results left the Cascades and WolfPack with matching 8-12 records, tied for the 12th and final conference playoff berth. But UFV will advance to the post-season for an eighth consecutive year by virtue of their 2-0 head-to-head record vs. TRU.
The Bisons (9-11) are also playoff-bound, having clinched their berth after Friday's 79-74 OT win over the Cascades.
"Honestly, it was crazy," Cascades fifth-year forward Shayna Litman said afterward, reflecting on her team's high-wire journey to the playoffs on the final night of the regular season. "But we just felt so relaxed coming into this game. We just wanted to play and have fun regardless of what the outcome was going to be. If we did lose, we wanted to know we played hard and gave it our all. And if we won, same thing – we wanted to end the season on a positive note. But knowing that Brandon put up their third win against TRU at this moment was amazing. Best feeling."
The Cascades blitzed the Bisons in the first quarter, building a 25-11 lead with Kate Head providing an offensive spark. The sophomore guard, who had missed Friday's game due to injury, poured in eight points in the frame including a pair of three-pointers.
UFV pushed their advantage to as many as 19 points in the second, and led 45-28 at the break. They cruised home from there, never allowing the Bisons within shouting distance.
"The girls just went out and played tonight," Cascades head coach Al Tuchscherer said. "They were aggressive offensively, and they were a lot more active at the defensive end of the floor. Manitoba didn't get a lot of clean looks early, and it resulted in us turning some of that stuff into offence at the other end. It was a really good start for us, and it was a team effort. We distributed our scoring a little more tonight, and had some people step up defensively."
Taylor Claggett had a record-breaking night for the Cascades, racking up 27 points, 13 rebounds and four assists. Most notably, she went 15-for-19 at the charity stripe, setting a new Canada West record for free throw attempts (19) and tying the all-time mark for makes (15) in a single game.
The previous record for free throw attempts (18) had been co-held by Claggett's former UFV teammate Kayli Sartori (Nov. 5, 2016 vs. Saskatchewan) and Kelsey Lund of the Calgary Dinos (Feb. 11, 2016 vs. Regina). Seven other players have made 15 free throws in a conference game, the most recent being UVic's Kristy Gallagher on Nov. 18, 2017 vs. the Saskatchewan Huskies.
It was Senior Night for Cascades fifth-years Litman and Sara Simovic, and both players contributed offensively in their final game at the EFAC. Litman scored 22 points and hauled down seven rebounds, and Simovic had 13 points, five rebounds and three assists. Head helped give UFV a balanced attack, scoring 11 points.
The Bisons, who shot just 25.4 per cent from the field, were led offensively by Emma Thompson (12 points) and Claire Harvey (10).
Tuchscherer felt that his team drew inspiration from the fact it was Senior Night.
"Senior Night should be an emotional night," he said. "It's a night where you're honouring people who have played university basketball for five years, and that's really a significant accomplishment. You really hope that the underclassmen are excited about that opportunity to honour the careers of the veterans. And then at the end of the night to learn that we've got at least an extra week, it was kind of fun to see their reaction to that and how excited they were."
Men's Volleyball (Raelyn O'Hara, Cascades communications assistant): Mariners sink Cascades in four sets
The No. 1-ranked Vancouver Island University Mariners wrapped up a weekend sweep of the University of the Fraser Valley men's volleyball team, prevailing in four sets on Saturday afternoon at the Envision Financial Athletic Centre.
The Mariners claimed the first set 25-19, but UFV bounced back to take the second 26-24. The Mariners, though, righted themselves and took the next two sets by 25-14 and 25-19 scores.
"We were better today," said Cascades head coach Kyle Donen, whose team fell in three sets on Friday to the Mariners. "We knew this weekend wasn't going to be an easy one, but we had our chances.
"We might've been able to bring it to a fifth set, but overall I thought everyone who was in there did well for us."
The Cascades got off to a rough start in the first set – they had a series of service errors, and struggled to penetrate the Mariners' block. But left side Nick Bruce, middle Josh Fefchak and setter Adam Frederickson formed a strong three-man block to get the hosts out of the rut. Cascades captain Ben Friesen got a pair of kills followed by Bruce with three to cut the deficit to 19-15, but VIU fended them off to take the opening set.
Friesen and Matt Whittall came out swinging in the second set, putting UFV ahead 8-3. Rallies were brief with back-and-forth kills, but the Cascades managed to maintain the lead at 15-12. The Mariners surged ahead 21-19, but the Cascades regrouped and came back swinging to steal the set 26-24.
VIU took the third set in decisive fashion, with Bruce exiting due to injury late in the frame. The Cascades brought rookies Justin Peleshytyk, Lucas Mantel and Ian Jagersma off the bench in the fourth set alongside veterans Frederickson and Dayton Pagliericci. Mantel and Peleshytyk had some kills and timely saves, but the Mariners led throughout and closed out the match.
Frederickson excelled for the Cascades with 32 assists, two aces and 11 digs. Leading the team in kills was Pagliericci with 10 kills and only one error, and Whittall and Friesen had nine kills apiece.
The UFV volleyball teams are on the road next week, facing the College of the Rockies Avalanche in a Friday-Saturday series in Cranbrook.
Women's Voleyball: Mariners salvage weekend split, top Cascades in four sets
The University of the Fraser Valley women's volleyball team was unable to complete a weekend sweep of the nation's No. 3-ranked team, falling in four sets to the Vancouver Island University Mariners on Saturday afternoon.
The CCAA No. 7-ranked Cascades (12-8) had defeated the Mariners in a four-setter on Friday evening, but the Mariners (16-4) bounced back to take the rematch 21-25, 25-14, 25-20, 27-25 in the Envision Financial Athletic Centre's North Gym.
"They're a big blocking team, man," UFV head coach Mike Gilray said of the Mariners. "We were doing some good things and trying to mix it up (offensively), but not mixing it up to the areas of the court that we wanted to.
"It was just a really fun weekend, great energy. There were a couple untimely errors on our side today, but we came back with great resilience."
The Cascades had a great start on Saturday, with setter Olivia Heinen feeding Amanda Matsui and Cassidy Pearson. Keira Fisher's three-point service run staked the hosts to an 18-11 lead, but the Mariners crept back to within 21-18. But Matsui helped the Cascades wrap up the set, getting a pair of side-outs on back-row attacks before finishing the set with a kill.
The Mariners raced out to a 14-6 advantage in the second, and the Cascades were unable to recover despite bringing Chelsea Kidd and Kara Williams in off the bench.
The third set was tied at 13-13, but VIU surged ahead at that juncture and took it by a five-point margin.
The Mariners carried that momentum into the fourth, building a 12-6 lead, but kills from Matsui and Kim Bauder and a service run from Amy Davidson drew the Cascades even at 16-16. VIU pushed ahead once again and led 24-21, but UFV fended off three match points, capped by a huge block from Lauren Poirier. The Cascades had a match point of their own, leading 25-24, but VIU's Mikayla Wagner extended the match with a kill, and the Mariners earned the next two points to seal the victory.
Matsui had a big game for the Cascades with 15 kills, 11 digs and five aces. Bauder notched eight kills and a team-high 14 digs, and libero Cassidy King had 13 digs. Cassidy Pearson had an efficient offensive performance with seven kills, and Heinen had 37 set assists.
Gilray was also pleased with the contributions his team got from Davidson, who excelled at the service line and in serve-receive off the bench, and from rookies Poirier and Alexis Edwards who sparked the Cascades in the fourth set.
The UFV volleyball teams are on the road next week, facing the College of the Rockies Avalanche in a Friday-Saturday series in Cranbrook.