Fraser Valley – First a Saturday morning threat of snow and freezing rain for the Eastern Fraser Valley.
That is Chilliwack East through Hope.
Environment Issued this statement on Saturday Morning
5:23 AM PST Saturday 27 January 2018
Special weather statement in effect for:
Fraser Valley – central including Chilliwack
Fraser Valley – east including Hope
Fraser Valley – west including Abbotsford
A Pacific low pressure system will move across the BC south
coast today. The mild moist air mass in combination with cooler air
from the BC interior will give mixed precipitation to the region.
Local wet snow or rain mixed with snow this morning will change over
to rain this afternoon as freezing levels rise. Snowfall amounts
could vary widely and will be highly dependent on precipitation
intensity and elevation.
Heavy wet snow of 5 cm within a short period of time is possible
over the central Fraser Valley, East Vancouver Island, and Inland
Vancouver Island. Howe Sound, Whistler and the East Fraser
Valley are likely to receive higher amounts of 5 to 10 cm
during this storm.
Another powerful storm will approach the BC coast tonight and Sunday. Heavy rain from the storm will start tonight and continue Sunday and Monday. Strong winds will also accompany the storm and snowfall could be locally heavy inland.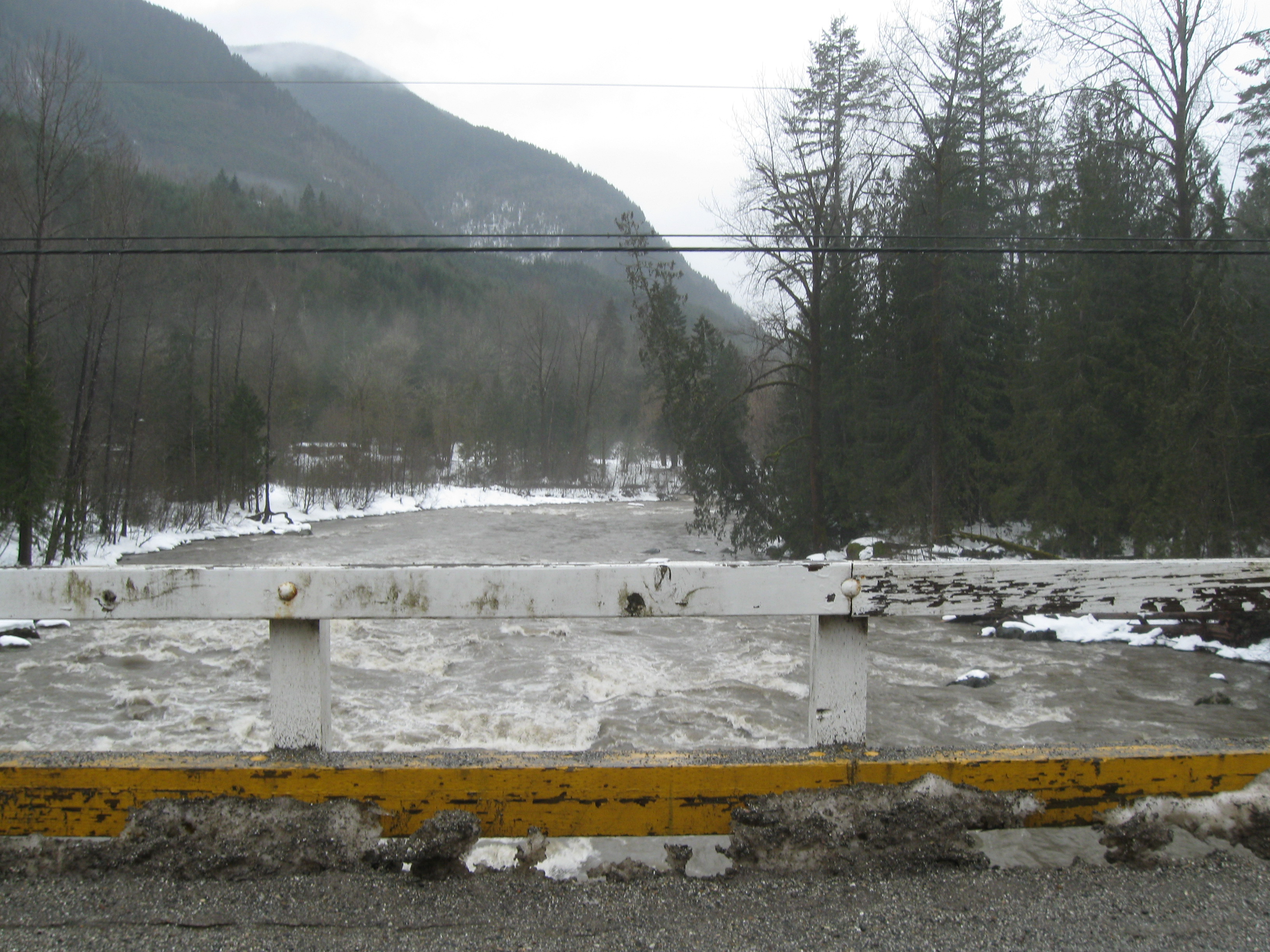 High Streamflow Advisory – South Coast
ISSUED: January 26, 2018 9:00 AM
The River Forecast Centre is issuing a High Streamflow Advisory for the South Coast including:
Howe Sound including the Stawamus River and surrounding creeks and tributaries
Sunshine Coast including streams around Gibsons, Sechelt and surrounding areas
North Shore Mountains including the Seymour River and surrounding creeks and tributaries
Lower Fraser Valley including the Chilliwack River and surrounding creeks and tributaries.
An atmospheric river storm event is expected to impact the south coast of British Columbia Sunday and Monday. Rainfall amounts are forecast between 50-200mm.  Freezing levels are expected to rise into the 1500-2000 m range during the storm.  Snowmelt from mid-elevation terrain may add to runoff for this event.  In watersheds with higher terrain, including the Squamish River and Lillooet River, snow may be the dominant form of precipitation, and river responses are expected to be lower than more coastal areas.
River levels are expected to rise rapidly in response to heavy rain. High streamflow is expected on rivers throughout the region, with the highest flows expected on Monday and possibly Tuesday.
The River Forecast Centre will continue to monitor conditions and will update the advisory as conditions warrant.