Men's Voleyball: Close calls in all three sets, but Blues best Cascades
As three-set matches go, Thursday's clash between the University of the Fraser Valley men's volleyball team and the Capilano Blues couldn't have been much closer.
But in the end, the host Blues were able to make more plays down the stretch of each set, edging the Cascades in three straight (25-23, 25-23, 25-22) in a clash of nationally ranked squads.
The CCAA No. 6-ranked Blues boosted their PACWEST-leading record to 16-3, while the No. 14 Cascades fell to 9-8, good for third in the conference.
"It was a little bit frustrating," UFV head coach Kyle Donen acknowledged. "Even though I don't think we played as well as we could have, I think we played well enough to win. We missed opportunities that they ended up capitalizing on. We did some really good things, but we struggled to execute down the stretch when we needed to, to grab a set."
The first two sets were closely contested affairs, with the host Blues able to claw out key points late. The third was shaping up to be a blowout, with Capilano racing out to a 12-2 lead, but the Cascades were able to battle all the way back to tie the set 20-20 on a Dayton Pagliericci kill. The Blues, though, scored four of the next five points en route to victory.
Nick Bruce posted 10 kills and 10 digs to lead the Cascades in both categories, and he matched Josh Fefchak for team-high honours with three blocks. Ben Friesen registered seven kills and an ace, and Graeme Hughes and Justin Peleshytyk had strong contributions off the bench to spark the third-set comeback.
"Definitely happy with how we walked out of there, being down as much as we were in the third set," Donen noted. "Definitely would have liked to see us steal one, though. It was close; I just wish we'd had a little more sense of urgency at the end of sets to earn a win.
"I hope the guys use it as a drive to be that much better on Saturday."
After a day off, the UFV and Capilano volleyball programs reconvene in North Vancouver on Saturday (women 6 p.m., men 8 p.m.).
Women's Volleyball: Cascades fall to Blues on the road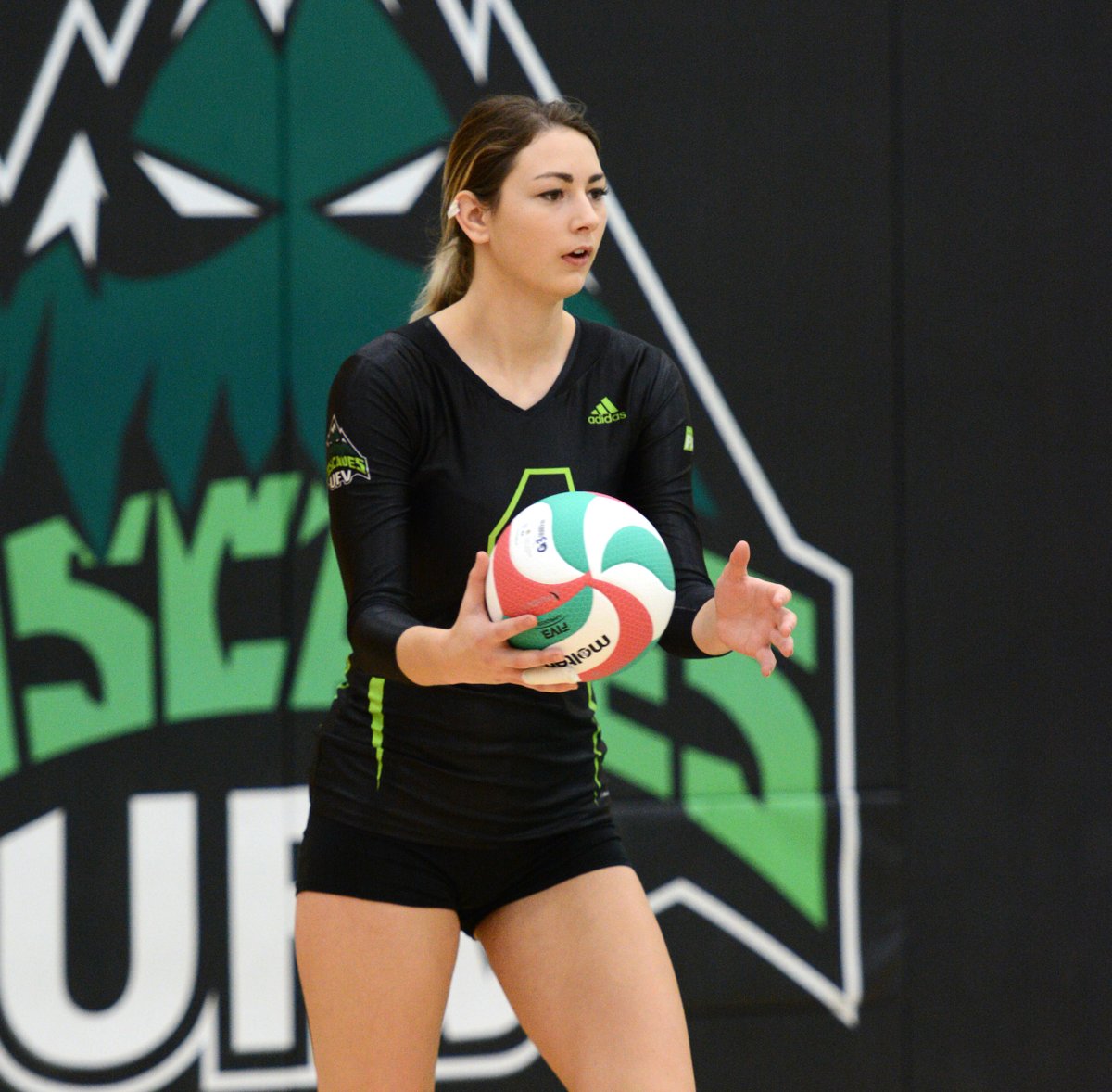 Unforced errors were the University of the Fraser Valley women's volleyball team's undoing on Thursday evening, as they dropped a three-set decision to the Capilano Blues.
In a match-up of nationally ranked teams at Capilano's North Vancouver campus, the hosts prevailed by scores of 25-19, 26-24 and 25-23.
The match pivoted in the second set – the CCAA No. 7-ranked Cascades built a 24-22 lead, but the No. 11 Blues fended off two set points and ended the frame on a 4-0 run to take a two-sets-to-none stranglehold. In the third, UFV battled back from a 24-19 deficit to draw to within 24-23, but Capilano made good on their fifth match point to seal the victory.
The Blues boosted their record to 11-8, while the Cascades fell to 10-7.
"We were struggling to find rhythm," UFV bench boss Mike Gilray analyzed. "We had so many unforced errors, and we need to be way more consistent. But even with that, we were in the game.
"It seemed like at key points in the game, we'd let them go on a run and all of a sudden we're down by five. We were making anywhere between 10 and 13 errors (in each set), and you can't win in this league giving that many points away."
Fifth-year middle Monique Huber returned to the lineup after missing the previous four games due to injury and was a bright spot for the Cascades, registering four kills on eight swings. Libero Cassidy King had a team-high 13 digs, and setter Olivia Heinen had 30 set assists.
After a day off, the UFV and Capilano volleyball programs reconvene in North Vancouver on Saturday (women 6 p.m., men 8 p.m.).
Gilray noted that his squad struggled with their passing early in Thursday's match, and once they straightened that out, attacking errors became an issue.
"When one thing was working, the next one wasn't," he observed. "The day off might be an advantage. We'll come back ready to play on Saturday."