Surrey/Fraser Valley – A recent spike in influenza activity throughout the region is prompting Fraser Health to remind people to get their flu shot to protect themselves and their loved ones. Since December 28, Fraser Health has seen five confirmed and four suspected influenza outbreaks in residential care facilities across the region.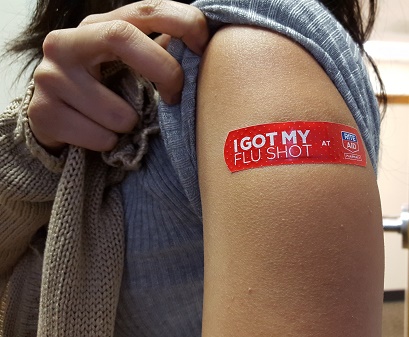 The symptoms of an influenza infection are fever, headache, fatigue, muscle aches, and cough. Complications from influenza, such as pneumonia, are more common in the elderly and those with heart, lung or other health conditions. Influenza is easily spread from person to person, and an infected person can spread the virus before they develop symptoms.
Flu shots are recommended for everyone six months of age and older and are available free of cost in B.C. for all children between six months and five years old, seniors 65 years old and older, pregnant women, Aboriginal people and individuals with chronic health conditions or compromised immune systems. People who work or live with people who have a higher risk of complications from the flu and visitors to health care facilities are also eligible for a free vaccine. Flu shots are now available at your doctor's office, walk-in clinics and pharmacies.
Find a flu clinic near you here.
We are entering a peak season for flu activity and Fraser Health is urging people to rethink their trip to the emergency department in non-emergency situations. There are several options available in the community that can help you address non-emergency health concerns:
For any health concern, call your family doctor or nurse practitioner first. Your family doctor knows you and your medical history. In some cases, same-day urgent appointments may be available if you ask.
If your family doctor is not available, check medimap.ca for participating walk-in clinics, wait times and opening hours. Medimap.ca is in most communities in Fraser Health. Remember to ask that a copy of the visit be sent to your family doctor.
For trusted health advice call 8-1-1 (HealthLinkBC) which is available 24 hours/day, 7 days/week. Speak with a representative who will help you find health-related information and services, or connect you with a nurse for health advice, a dietitian for nutrition information or a pharmacist for medication advice.
For an urgent medication refill speak with your pharmacist. Remember, since doctors' offices may still be closed for the holidays, and walk-in clinics and pharmacies may have shortened hours, it is important to fill your prescriptions ahead of time. If necessary, your pharmacist may be able to provide an emergency refill of your prescription, including medications for chronic conditions. Contact your pharmacist for minor issues that might be managed with over-the-counter medications. You should also stock your medicine cabinet with over-the-counter pain relievers, cold medications and antacids to relieve symptoms of minor illnesses.
For a mental health concern call the Fraser Health Crisis Line, 24/7 at 1-877-820-7444.
For a child/youth mental health crisis call Fraser Health's START program at 1-844-782-7811.
For a possible poisoning or exposure to a toxic substance, call Poison Control at 1-800-567-8911.
For an urgent dental concern such as a traumatic injury to the mouth or jaw, severe pain that can't be controlled with over-the-counter medications, swelling or ongoing bleeding visit bcdental.org/yourdentalhealth/findadentist.aspx and look under Dental Emergency for more information.
For critical or life-threatening conditions, such as chest pain, shortness of breath, serious bleeding or broken bones, call 9-1-1 or go to the nearest hospital emergency department.