Abbotsford/Chilliwack – Andy Sidhu will be the University of the Fraser Valley's third Chancellor.
A long-time proponent of community engagement and integration, Sidhu will take over from Dr. Gwen Point, who served as UFV's second Chancellor from 2015 to the present, following two terms by Brian Minter.
"I'm extremely honoured and proud to join the University of the Fraser Valley in this capacity," Sidhu said.
"UFV has a rich history of in inclusivity and community leadership. Needless to say I'm very excited to contribute as we move forward together."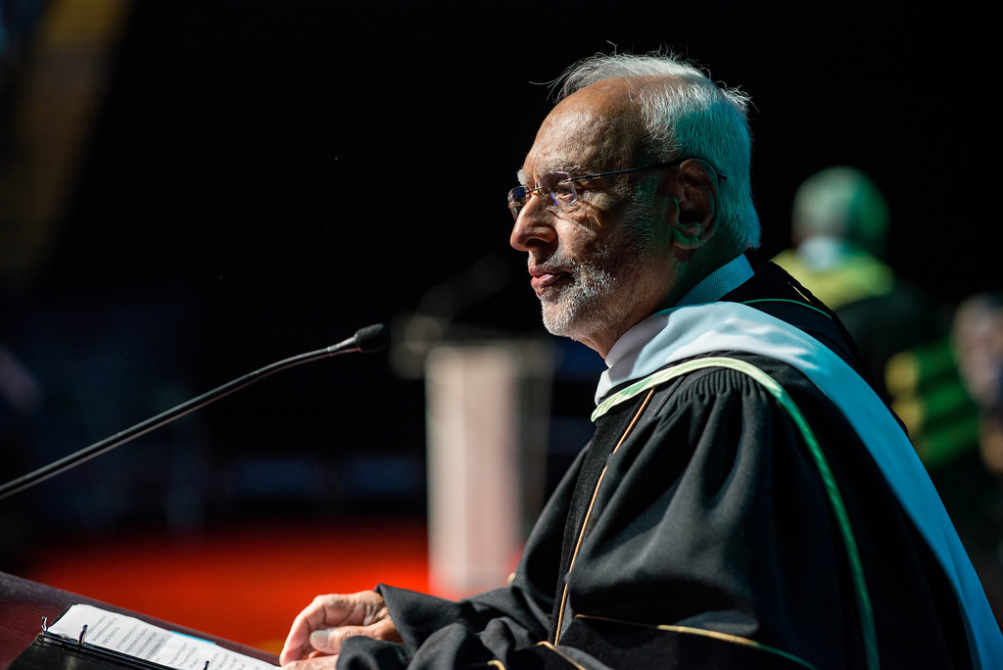 An accountant by trade before emigrating from Malaysia in 1974, Sidhu worked first on a dairy farm, then as a bookkeeper with the Canada Farm Labour Pool, where over the course of his 21 year career he became an unofficial ambassador, bridging gaps in culture and language between local businesses and people emigrating from the Punjab region.
Sidhu is best known for founding B.C.'s first multi-language newspaper, the Punjabi Patrika. Printing 15,000 copies every Friday in English and Punjabi, the Patrika was established as a beacon of inclusivity and multicultural connection nearly 22 years ago.
Sidhu received an honorary degree from UFV in 2017 in recognition of his community service.
As Chancellor, Sidhu will act as ceremonial head of UFV while serving as a member of the Board of Governors and the Senate. He will also preside over convocation, conferring UFV degrees, diplomas, and certificates, and serve as an ambassador for UFV at major events.
The Chancellor is appointed by the UFV Board of Governors upon the recommendation of the Alumni Association and consultation with the UFV Senate. UFV started the practice of appointing a Chancellor after receiving university status in 2008.
"By recommending him as UFV's next Chancellor, the Alumni Association sought to recognize Andy Sidhu as a hard-working and community driven business leader who will serve as an excellent role model for our students," said UFV Alumni Association chair Nav Bains.
"Andy is a good friend and strong supporter of UFV and has been for many years. A long-time member of the South Asians Studies Institute board, Andy has deep connections and roots in the Fraser Valley region and has the ability to advocate for UFV with the diverse community throughout the Valley. We're very happy to have him joining us in this role."
UFV Board Chair John Pankratz couldn't agree more.
"In Andy Sidhu, the UFV Board of Governors welcomes an experienced community leader with deep international experience," said Pankratz.
"We are thrilled."
In addition to making financial donations to local health care and recreational initiatives, Sidhu has volunteered with more than a dozen groups, including the UFV South Asian Studies Institute, the Abbotsford Foundation, Indo-Canadian Business Association, Abbotsford Community Services, and Abbotsford Hospice.
"I very much look forward to working with Andy Sidhu as UFV's Chancellor," said UFV President Jackie Hogan.
"Andy is a respected business leader, and as the recipient of a Queens Diamond Jubilee and Fraser Valley Cultural Diversity award, his community commitment speaks for itself."
Dr. Gwen Point's time as Chancellor punctuated a lifetime of connection with UFV.
She started her engagement with what was then Fraser Valley College in the early 1980s when she and her husband Steven (former Lieutenant Governor of British Columbia and now a B.C. provincial court judge) took university-level courses there.
From FVC student to member of the University College of the Fraser Valley board of governors, to UFV assistant professor, Point's career and educational journey paralleled the development of UFV from college to university.
Sidhu will officially be installed as Point's successor at a special installation ceremony in the coming months.