Vancouver – The B.C. Centre for Disease Control (BCCDC) and Ministry of Health are reminding owners, operators and employees in B.C.'s 12,000 food service establishments to check the status of their FOODSAFE certification to ensure they meet the requirements under B.C.'s Public Health Act.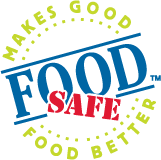 FOODSAFE is a provincial food safety training program for establishments including restaurants and bars, hospitals, long-term care facilities, child-care centres, schools and grocery stores. Every operator of a food service establishment, and at least one staff member on every shift, must have a valid FOODSAFE Level 1 certificate or its equivalent.
The FOODSAFE certificate has a five-year shelf life. All certificates issued prior to July 29, 2013, will expire on that date in 2018. With the deadline fast approaching, people with an expiring certificate should recertify online, in person or by correspondence.
For more information on recertification, course options and pricing, visit the website.
"The program is designed to enhance the knowledge of people working in the food services industry on topics such as foodborne illness, safe cooking and cooling temperatures, sanitation and food allergens," said Sion Shyng, a food safety specialist at the BCCDC. "Improved food handling skills results in safer food for people eating out in B.C."
About FOODSAFE
FOODSAFE is a comprehensive "made in B.C." food safety training program for the food service industry that was developed jointly by government, industry and academia.
B.C.'s FOODSAFE program was developed in 1986 as a voluntary course. Each year, more than 43,000 British Columbians become FOODSAFE certified. An additional 14,000 people in other Canadian provinces are trained annually using B.C.'s FOODSAFE program.
Food service operators and specific workers have been required to complete FOODSAFE certification under the Ministry of Health's Public Health Act since July 1, 2000.
In June 2013, the BCCDC and the provincial government announced all FOODSAFE Level 1 certificates issued in B.C. as of July 29, 2013, would have a five-year expiry date. All certificates issued before that date would expire on

July 29, 2018

.