Chilliwack – Friday and Saturday night, there will be plenty of laughs at the HUB Theatre- Chilliwack Cultural Centre. Ticket information is here.
On Friday night it's Leave It To Cleavage.
A gut-bustingly hilarious improv theatre show! Life is all about improvising solutions, and that is something the four "seriously funny women" of Leave it to Cleavage take to heart! Donning perfectly ironed satin dresses and flawlessly hair sprayed beehives, the ladies are back for another evening of hysterical comedy and improv. These 1950s homemakers are up for a night of martinis and gossip, all with the help of the audience's participation and suggestions. Buckle up, because they are more than ready to run the audience through the wringer of "common sense"— which, as their housewife alter egos will tell you, involves perky attitudes, prim satin dresses, and just a touch of self-medication. There is even an on-stage battle of the sexes with contestants from the audience to determine who wears the pants in the family, complete with a prize of a chance to win a chance to win ten thousand dollars! Adult material and situations – may not be appropriate for all audiences.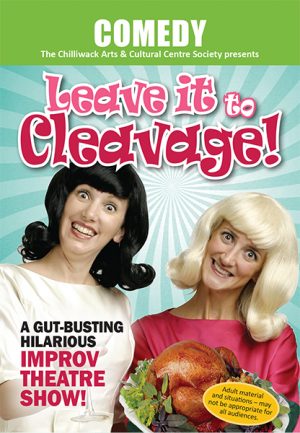 On Saturday it's Clockwork Comedy.
Get ready to set your clocks back as we partner with Fraser Valley Comedy to bring you some of the provinces' very best stand-up comedy acts in celebration of Daylight Saving's Time giving you an extra hour of sleep! With the goal of building a comedy culture one joke at a time, Fraser Valley Comedy will be bringing the comics to the big stage for the first time.
Headiner: Graham Clark is a three-time Canadian Comedy Award nominee, is a regular on CBC's The Debaters and has appeared at Just for Laughs, Halifax Comedy Festival, Winnipeg Comedy Festival, Bumbershoot, and HBO's Funny As Hell. He is a winner of the Yuk Yuks Great Canadian Laugh Off and has filmed his own hour-long Comedy Now special for CTV.
Featured Comic: Erica Sigurdson is best known for her rapier wit on CBC Radio's smash hit The Debaters. Erica Sigurdson is in high demand for radio, television and live appearances. In addition to her twenty-seven appearances on The Debaters, Erica has recorded five television specials in 2013 alone.
Also your local favorites are joining here! Mike Haire, Mike Honkawa, Cari Norton Moore, Helena Paul and the host for the evening is Yo Trieu!
Adult material and situations – may not be appropriate for all audiences.