The BCHL's continual aim to be a presence for good in each community in the league has led to a partnership with Together We Can Addiction (TWC) Recovery and Education Centre, an organization with a proven record of bringing individuals struggling with substance reliance back to health.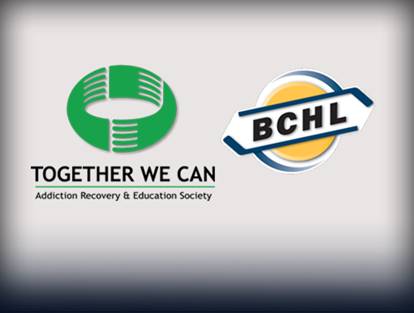 "The pressures of Junior hockey can give some the idea they have failed and if an injury, particularly a concussion, is added to the equation it can be hard to cope with," said BCHL commissioner John Grisdale. "The partnerships we've joined are for the best interests and well-being of players. But we also want everyone in our league, including fans and all residents of each BCHL community, to know these services are available to the public should they feel the need to ask."
Existing BCHL initiatives with the Canadian Mental Health Association (CMHA) and with HeadCheck Health fit in with Together We Can as all three groups provide tools to individuals, not just players, who may have been affected by head injuries, low mood and depression. Each group provides specific resources and the BCHL has identified that people may need one or all of the groups' expertise. That holds for any individual, whether they are an athlete, fan, or otherwise. The BCHL's partnerships offer support to anyone, whether they are involved in the league or not.
"Together We Can Addiction Recovery and Education Centre is very excited to partner with the BCHL to help bring awareness and support to men and families who may struggle with addictions," said TWC communications manager Christopher Steffler. "While many athletes may have experienced addiction in their lives, we also know that sports play an important role in the healing process. Participation brings people together to work towards a common goal and encourages physical fitness, both of which are integral to leading a healthy lifestyle and building a life in sobriety."
In addition, TWC employs former Junior hockey players Steve Bull and Nathan MacMaster in their intake services department. Both reached elite levels in the game but also struggled being displaced from home and trying to cope with injuries and expectations. Steve and Nathan each went through cycles of substance use before getting help and working their way back to health. Their respective backgrounds make them valuable members of the TWC team.
The BCHL strives to be a leader in development of student-athletes and believes in initiatives such as these to enhance its mission of always keeping the player in mind, fostering partnerships of mutual value and acting with integrity in all league endeavours.