The University of the Fraser Valley volleyball teams launch what is sure to be a historic 2017-18 PACWEST campaign this week.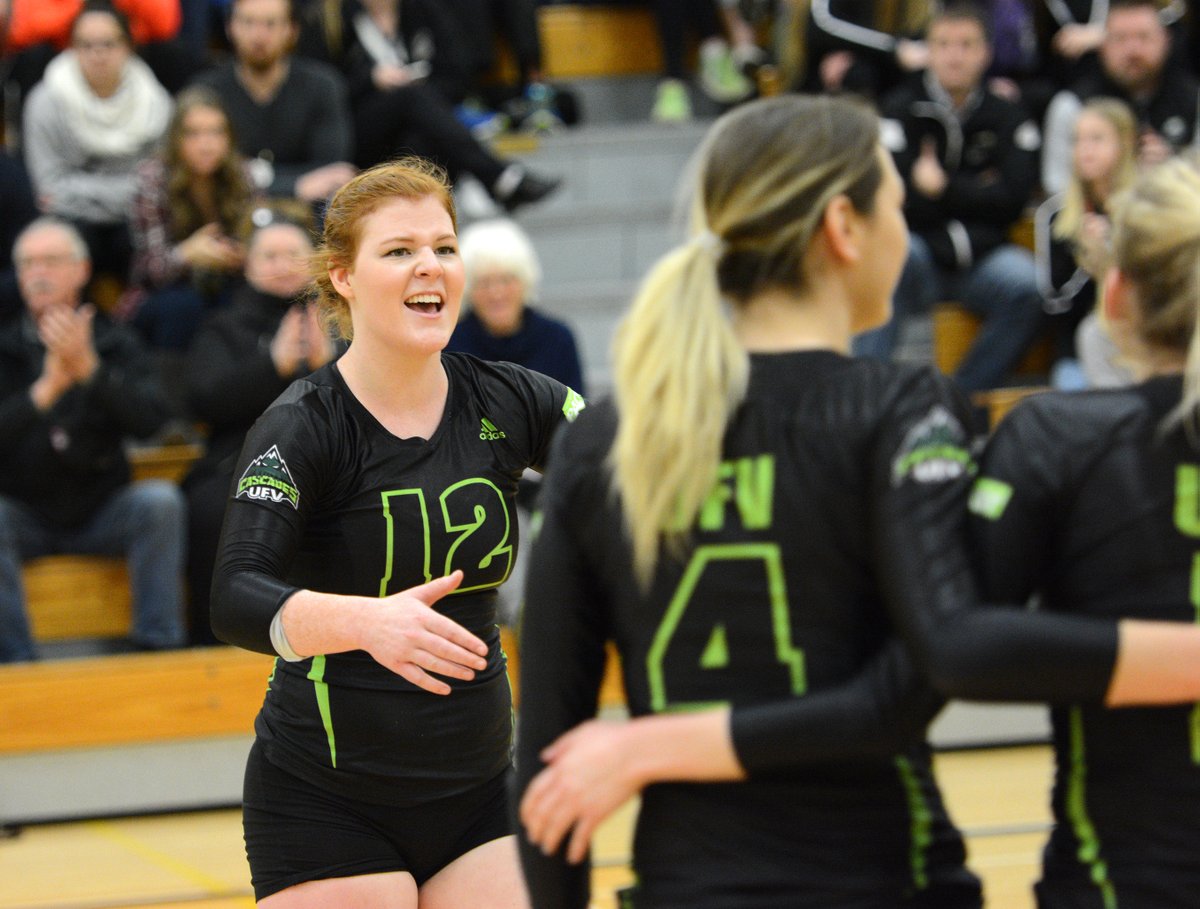 The Cascades open the regular season with a home-and-home set vs. their crosstown rivals, the Columbia Bible College Bearcats. The two programs clash at Columbia Place on Thursday, and return to the Envision Financial Athletic Centre for games on Friday. The women play at 6 p.m. both nights, followed by the men at 8 p.m.
The historic element of the impending season comes in the new year, as the Cascades host the PACWEST volleyball championships for the first time. The men's and women's tournaments run Feb. 22-24 at the Envision Financial Athletic Centre.
"We couldn't be more excited about that opportunity," UFV men's volleyball head coach Kyle Donen enthused. "Not only is it a chance for us to play on our home court where we've had so much success the past couple years, we also get to showcase our facility and our university. It's an exciting time."
Men's Volleyball: Depth, blocking will be key for Cascades
2016-17 SEASON IN REVIEW
Regular-season record: 17-7 (2nd in PACWEST)
Post-season record: 0-2 (lost in PACWEST semifinals and bronze medal game)
The UFV men's volleyball program has lost some key components since earning a second-place PACWEST regular-season finish last season, but the Cascades still boast enviable roster continuity.
The Cascades will surely miss right side Joel Kleingeltink (a three-time PACWEST all-star and a CCAA All-Canadian in 2016-17) and libero Isaiah Dahl (a two-time PACWEST all-star). But fourth-year head coach Donen has the rest of his starters returning led by left side Ben Penner, a second-team conference all-star last season.
"The biggest difference for us this year is, we're a little bit of a younger group top-to-bottom," Donen said. "But that means there's more opportunity for us to grow over the course of the year. This young group is going to battle, and I'm hoping we peak at the right time this year. I think we have the tools to get there."
Penner, a third-year player out of Abbotsford's Mennonite Educational Insititute, is coming off a breakthrough season which saw him rank seventh in the PACWEST in kills (2.72/set) and 10th in total offence (3.22 points/set).
The Cascades have great depth at the outside hitter positions – fifth-year Nick Bruce and third-year Matt Whittall saw significant playing time last season, and sophomore Josh Fefchak and rookies Justin Peleshytyk and Landon Uy will also be in the mix. On the right side, sophomore Graeme Hughes looks to be the heir apparent to Kleingeltink.
The Cascades' greatest strength last season was their blocking, and they bring back three players who ranked in the top 10 in the league in that department: middles Connor Pruim (0.90/set, second) and Dayton Pagliericci (0.60/set, sixth), and setter Adam Frederickson (0.61/set, fifth).
Returning liberos Evan Bell-Foley and Carter Bronson are part of a group vying to replace Dahl, and middle Luc De Gianni and setter Brendan Loewen will be key reserves at their respective positions.
Women's Volleyball: Cascades aim to climb standings with deeper roster
2016-17 SEASON IN REVIEW
Regular-season record: 9-15 (5th in PACWEST)
Post-season record: 0-1 (lost in PACWEST quarter-finals)
As the UFV women's volleyball team prepares to embark on 2017-18, head coach Mike Gilray believes that high-level competition for playing time at every position will spark growth and help the Cascades climb the PACWEST standings.
The Cascades finished fifth in the conference last season with a 9-15 record and made a first-round playoff exit, but a strong core of returnees and an outstanding recruiting class fuels optimism heading into the new season.
"We want battles in all positions, and that's something we've been trying to build," Gilray said. "We don't want it to be, 'Hey, you're returning, it's yours.' We're trying to bring in recruits who can push (for playing time).
"We can't stay the same, unless we want to keep finishing in the middle of the pack. We want to finish higher than that, and the league got younger this year. There were a lot of fifth-years who graduated from other teams, a lot of turnover."
The Cascades' depth is perhaps best illustrated by the battle for playing time in the middle. Fifth-year captain Monique Huber leads the group, and third-year Keira Fisher and sophomores Hanna Hieltjes and Teagan Johnstone are also returning. Rookie Lauren Poirier, at 6'3", has outstanding potential.
At the outside hitter spots, fourth-year Kim Bauder brings great versatility with her ball-control and offensive ability, and returnees Cassidy Pearson and Chelsea Kidd have both had great off-seasons. Redshirt freshman Amanda Matsui is a potential impact player, and true freshman Alexis Edwards is a proven winner at the high school level.
First-year setter Olivia Heinen is one of the league's top recruits, and she'll be pushed by versatile sophomore Kara Williams, who sat out last season due to injury after starting at right side as a rookie.
At libero, incumbent starter Amy Davidson returns, and returnee Cassidy King and blue-chip recruit Karissa Marazzi are highly capable options.
"I'm so excited about how our players worked in the off-season," Gilray said. "Each one of them is slightly faster, hitting just a bit harder, jumping just a bit higher. Those increases physically are big in this league."