Chilliwack –  The City of Chilliwack announces a public art partnership with Stó:lō Nation for the Vedder Road Roundabout Art Project to celebrate the history of the Ts'elxwéyeqw Tribe and Stó:lō Nation. The City's budget for the project is $180,000, which is included in the overall budget for the Vedder Bridge Replacement Project.This will be placed in the new Vedder Roundabout.  The artwork was designed by Squiala First Nation Chief David Jimmie and Bonny Graham, Coast Salish Aboriginal artist, in consultation with the Stó:lō Nation Chiefs Council and Ts'elxwéyeqw Tribe.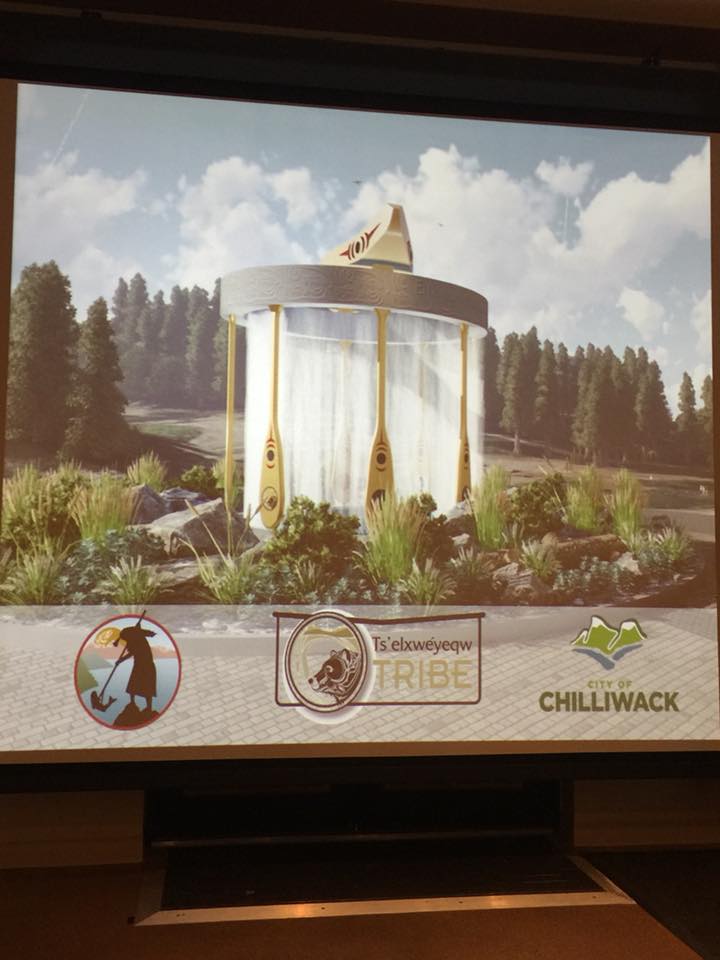 The City first proposed the public art partnership in the spring of 2016 to Chief Jimmie as President of the Stó:lō Nation Chiefs Council. As a strong advocate for education and culture, Chief Jimmie has played a large role in his community's growth in several capacities: in his former role as the Squiala First Nation's lands manager and now as Chief of Squiala First Nation, President of the Ts'elxwéyeqw Tribe and President of the Stó:lō Nation Chiefs Council. In the spirit of reconciliation and remembrance, he agreed to partner with the City of Chilliwack on the Vedder Road Roundabout Art Project.
Following the Chilliwack Public Art Policy, the proposed artwork received approval from the Chilliwack Public Art Advisory Committee and City Council. At a meeting in July, the final rendering drawings were also warmly accepted by the Stó:lō Nation Chiefs Council, who were pleased the proposed artwork offered a strong cultural representation.
The artwork will feature a traditional Stó:lō / Coast Salish canoe on top of an upper ring, on which "Ey kwesé é mi" with its English translation "It's good that you are here…welcome" will be embossed with a salmon and wave design. Eight paddles will encase the supporting posts for this structure. Seven of the paddles will hold emblems that represent the seven Ts'elxwéyeqw communities and one will hold the City of Chilliwack crest. Recirculating water will flow from the upper ring, giving the artistic impression of the canoe over the water and the surrounding landscape will reflect the natural Vedder River vegetation.
The artwork will be scaled to suit the centre button area of the roundabout and will be proportioned to maximize the artistic statement. Construction of the public art project at the new roundabout on Vedder Road is scheduled to be completed by the end of Spring 2018.