Men's Soccer: Cascades battle SFU Clan to 1-1 stalemate in preseason finale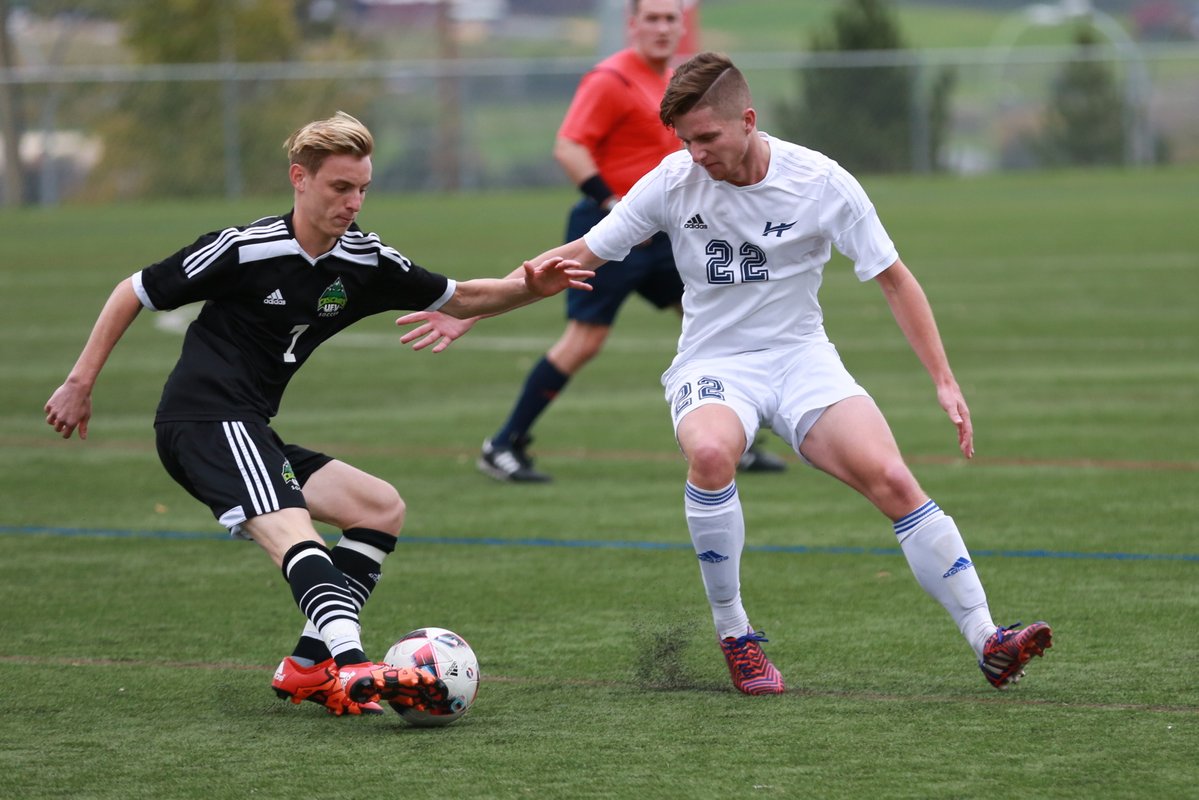 The University of the Fraser Valley men's soccer team wrapped up its preseason with a solid performance against Simon Fraser University on Saturday, battling the NCAA Div. II side to a 1-1 draw in an exhibition scrimmage.
After a scoreless opening half at MRC Sports Complex, Gurmaan Jhaj staked the Cascades to a 1-0 lead on a penalty kick in the 57th minute, but Adam Jones drew the visitors even just three minutes later.
The Cascades now close the book on the preseason and will embark on the Canada West regular season in six days' time. They open on the road next weekend vs. the UBC Thunderbirds (Friday, Aug. 25, 6:30 p.m.) and Victoria Vikes (Saturday, Aug. 26, 7:15 p.m.). The team's home-opening weekend is Sept. 8-9, when they host the UBC Okanagan Heat and Thompson Rivers WolfPack, respectively. Both games kick off at 8 p.m. at MRC Sports Complex, Field 4.
Saturday's result marked the third consecutive year that the Cascades and Clan have tied in exhibition action. In 2015, they were level at 1-1 on Burnaby Mountain, and they tied 2-2 in 2016 at MRC Sports Complex.
"We had to defend for a decent amount of time, but to show the resilience and to defend as a unit as we did was positive," UFV head coach Tom Lowndes said. "We had four first-year players in the starting 11 and we brought four more off the bench, so we finished the game with five first-year players on the pitch.
"They (the Clan) be maybe the best footballing team we'll see all year, along with Alberta and UBC, so if we can defend against them, I like us going forward. I think we've got to work on how we transition and move the ball going forward, but we were dangerous off the counterattack. For us to be able to stay with a program like that, a powerhouse, is good."
The Cascades started brightly – rookie forward Darash Sandhu soared for a header in the early minutes, narrowly beating SFU keeper Aaron Bain to the ball but it looped just over the crossbar. Later, off a UFV corner, first-year defender Sammy Kajzerek got his head the ball only to have it cleared off the line by a Clan defender.
SFU, which won the GNAC conference championship in 2016 and are picked to repeat this season, soon found its footing. UFV keeper David Hicks had to be sharp to keep it scoreless – his best stop came on Matteo Polisi, who launched a drive from the left wing only to have Hicks leap to his left to tip it over the bar.
First-year midfielder Parman Minhas was an offensive catalyst for the Cascades throughout, and he paved the way for the game's first goal when he was taken down in the box in the 57th minute. Jhaj stepped to the spot and fired a shot top-corner past Clan keeper Miguel Hof, who had come on for Bain at halftime.
Just three minutes later, Jones found some daylight and ripped a shot from the top of the box into the bottom corner to Hicks's right.
Brady Weir had a great chance to restore the Cascades' lead – Karan Kular (yet another promising UFV rookie) made a run down the right wing and sent the ball to Weir in the middle, but his shot from point-blank range was right at Hof.
Lowndes felt that Hicks had his "strongest game of the preseason," and had words of praise for his centre-back duo of veteran all-star Tammer Byrne and rookie John Kasper. Minhas also excelled on the left wing.
"He's a first-year player who's done really well, put his stamp on it, and has stepped up and said 'I want to play,'" Lowndes said of Minhas.