Fraser Valley – Steptember is a 4-week health and wellness initiative that incorporates teamwork and physical activity. Steptember encourages getting active by taking 10,000 steps a day for 28 days through various activities, including ones for people who use a wheelchair, to raise funds for people with cerebral palsy!
Registration for Steptember 2017 is now open!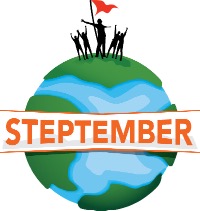 This year, participants who already have their own pedometer (or Fitbit or step-counting app) can take advantage of our special, reduced registration fee of just $15 per person or $60 for a team of four. Or pay an extra $10 per person and get a pedometer.
This year's challenge takes place from September 4th to October 1st and throughout the challenge the Steptember team will have lots of Canada 150! bonuses for you. It's going to be our biggest year yet, so what are you waiting for? Register today!