Abbotsford – Over 140 wildfires are currently burning in British Columbia, yet people continue to throw their cigarette butts out their windows even as we face tinder-dry conditions.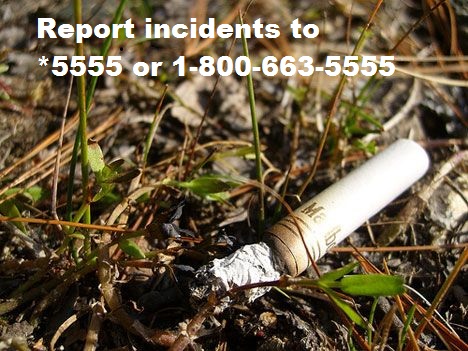 Earlier today, a patrol officer observed a lit cigarette butt being thrown from a vehicle. This resulted in a hefty $575 fine being issued under the Wildfire Act. This is nothing compared to the full cost of battling a new fire, nor for any loss of homes, lives, property or livestock. The Abbotsford Police Department will continue to issue fines for these careless actions.
Call 911 to report all fires," states Jeff Adams, Deputy Chief, Abbotsford Fire Rescue Service.
If you see a person throwing a cigarette butt from a car or people dropping cigarette butts in areas that could cause a fire, please call *5555 or 1-800-663-5555 or call the Abbotsford Police Department at 604-859-5225 or text us at 222973 (abbypd).