Fraser Valley – Yes you read the by-line correctly.
Sticking up for the competition.
This coming from an on-line social media website specializing in Fraser Valley News Sports and Entertainment.
And a long radio background.
And you're probably wondering what I put in my morning coffee to persuade me to write this.
Here's the bottom line. We need newspapers, and yes they are competition for FVN. There has to be corporate and public support for TRAINED media professionals to get the true stories out, and inform the public.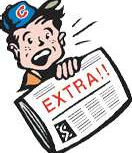 In broadcast licences, it clearly states that the outlet must "serve the community of….".
However there are more changes in the wind for the beleaguered industry.
From Paul Adams at iPolitics Insights, dated June 15, 2017 :
Many close observers think it is quite likely Postmedia will go into bankruptcy, or some kind of bankruptcy protection, within the next year — if not sooner. In the meantime, the chain is stripping its newsrooms of reporters and editors.
This week, the Columbia Journalism Review remarked that the failure of Postmedia would be the equivalent of the top three U.S. newspaper chains going down at once. Outside of Toronto and Winnipeg, Postmedia controls all the paid daily newspapers in the ten largest English markets, and it controls scores of titles in smaller communities.
Yet in this week's report on media from the House of Commons heritage committee, there was no direct reference to this looming crisis. Similarly, the recent 'Shattered Mirror' report by the Public Policy Forum, commissioned by the government in an effort to figure out what to do, made only oblique references to the dying elephant in the middle of the room.
It's a problem.
A poll conducted for the PPF report by Earnscliffe Strategy Group suggested that three-quarters of Canadians think — correctly, in my view — that democracy would be threatened if news outlets were no longer able "to fulfill their civic news function." Yet the easy access we all now have to news online has convinced most of us that we are getting more news than ever before. The fact is Canadian media outlets have shed thousands of workers in recent years.
Postmedia owns the Vancouver Sun and Province and the demise of just one of the papers will affect voices that should be heard in legitimate media . (I hate the term "fake news" but the reality in this day and age is that there are blogs that pass them selves off as legitimate. They don't have the background that many of my compadres have. I have been in electronic media, radio and new media with some newspaper background, for over 38 years and seen a few changes).
Black Press have had their challenges. The two Surrey newspapers have merged. One Chilliwack paper died just before New Year's Eve. There are rumblings that within the next two years, more merging and job cuts are on the way.
For the record, there are NO LOCAL RADIO STATION NEWSROOMS left in the Fraser Valley (I was the News Director of one of them). Ironically that was part of the genesis for FVN, rising like a Pheonix from the ashes of this situation.
I will be the first to admit, that the newspaper industry, just from print costs (TV and radio have broadcast tech costs), are behind the financial 8-ball. Advertisers are deciding which way to go. Traditional media or new media.
I am of the opinion that more is good (thank you Gordon Gekko…sort of…). There will always be a need for long form newspapers (and radio and TV as well. CHEK TV in Victoria is a good example of a local outlet surviving the tide).
But if You, the information consumer doesn't care, you may not like what you'll get.
…..and that is sad…..
Because you already have it coming into your inbox.
Don Lehn, Editor/News Director
FVN Fraser Valley News Sports and Entertainment