Abbotsford – Supporters were on hand today to officially welcome the John Deere 'Gator' ATV – the newest vehicle in the Abbotsford Police Department (APD) fleet.
Abbotsford Police Foundation (APF) President Kevin Boonstra symbolically 'handed over the keys' to Chief Constable Bob Rich at an event where the Foundation also announced the APF and the University of the Fraser Valley (UFV) will explore the possibility of a more formal partnership.
The APF supports Abbotsford Police Department community programs and helps enable the APD to achieve their goal of making Abbotsford 'the Safest City in BC.' The APF motto 'Together for a safer Abbotsford' embodies their key focus areas – building positive relationships, connecting police with community, and funding engaging programs.
In 2016 APD Chief Bob Rich designated the acquisition of a 'Gator' as specialized equipment for APF fundraising. Through the generosity of corporate and community donors at the second annual Abbotsford Police Foundation (APF) fundraising breakfast, "Crime is Toast", the Foundation was able to deliver on this fundraising goal.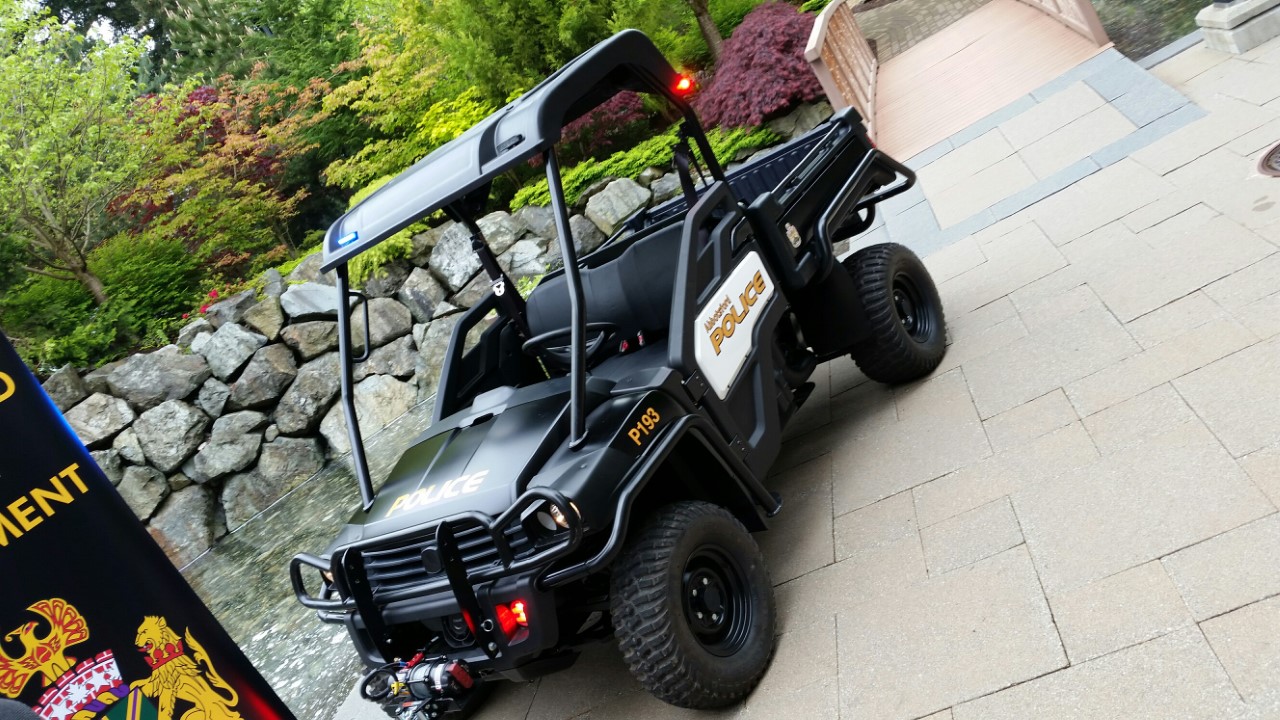 Chief Bob Rich acknowledged the generosity of donors "The addition of this specialized equipment will have a big impact on our ability to police 'difficult to reach' areas of our city. Our members have been looking forward to this day and I can assure you we will put this unit to good use! We sincerely appreciate the work of the Abbotsford Police Foundation; and extend a heartfelt thanks to each the community leaders whose generosity made today possible'.
"Today's event is an opportunity for us to celebrate some milestones and achievements that benefit our community today and well into the future" noted APF President Kevin Boonstra. "We are here to thank our supporters; welcome the 'Gator' in a symbolic handing off of the keys to the APD.."
"I also want to acknowledge our growing relationship with UFV" said Boonstra. "Our ability to leverage 'student power' is highly beneficial to our volunteer board of directors. UFV practicum students get a unique opportunity to put their education and experience to the test helping the Foundation achieve our goals. As well, we will explore a number of other mutually beneficial ways to work together."
UFV President Mark Evered spoke to the importance of collaboration with the Abbotsford Police Foundation, "This relationship provides exceptional opportunities for our students across a range of disciplines from criminology to business, and from hospitality to communications. Students like Karlee Pederson, our first practicum student in this program, gain invaluable practical firsthand experience with all aspects of work within the Foundation."
President Evered added, "We are thrilled to be working with the APF and to announce that plans are underway for us to host the 3rd annual Crime is Toast 'Breakfast with the Chief' fundraiser this October on our main Abbotsford campus. At UFV we value community connections and opportunities to be involved in making a difference. We look forward to looking at further possibilities for partnerships with the Abbotsford Police Foundation in support of the Abbotsford Police Department."