Chilliwack – MAY 16 UPDATE – Chilliwack's Cycle Vision Plan is expected to get the green light from city council at Tuesday's 3PM Council Meeting.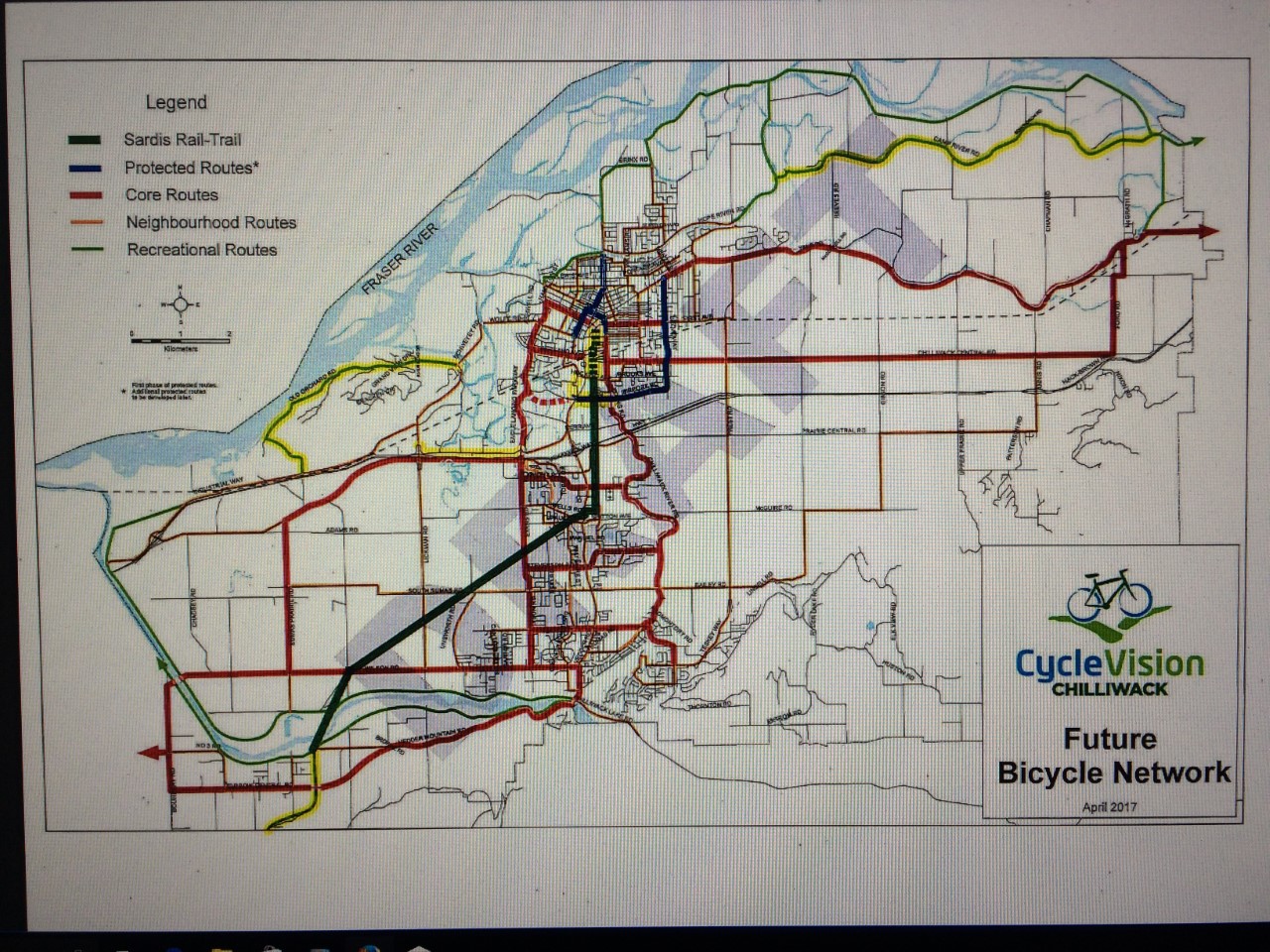 MARCH 29 UPDATE – While the April 1 open house is still on, the Province announced $150,000 in infrastructure funding from BikeBC.
Chilliwack will receive $150,420 in BikeBC funding this year for the Industrial Way bicycle lanes from Old Orchard to Progress Way, announced MLA for Chilliwack John Martin, on behalf of Transportation and Infrastructure Minister Todd Stone.
"Chilliwack is privileged to have some of the best views of the Fraser River," said Martin. "The investments in the Industrial Way bike lanes will bring quality of life improvements to the area and will hopefully encourage more people to get outside and explore B.C."
The project is part of $9.25 million in funding this year for cycling-infrastructure projects throughout the province, including bike lanes, multi-use trails and improvements to roads and highways to increase safety for cyclists. Through B.C. on the Move, the government's 10-year transportation plan, the ministry has now committed $20 million over three years to the BikeBC program.
BikeBC is the Province's cost-sharing program that helps communities build cycling projects that attract and support commuter and tourism cyclists.  Since 2001, the Government of British Columbia has invested more than $230 million in cycling grants and infrastructure.
Cycling contributes to increased physical activity and helps reduce greenhouse gases.
Over the next three years the ministry and its partners are investing over $4.6 billion in priority transportation investments as part of B.C on the Move.
Learn More:
For more information about BikeBC, visit: www.gov.bc.ca/cyclingfunding
MARCH 20 ORIGINAL STORY – Chilliwack is on board with a Cycle Vision Plan and the next public event, to see some of the financial nuts and bolts, will be at Chilliwack City Hall from 10AM to Noon on Saturday April 1.
Starting at Page 38 of the Tuesday Council agenda is the breakdown. Council is expected to authorize staff to forward the Draft Cycle Vision Plan to the Transportation Advisory Committee and proceed with the second "Cycle Vision Chilliwack" event.
The event will consist of  Static displays and a presentation of the Draft,Plan by Drdul Community Transportation Planning. The "Future Bicycle Network" map illustrates the future bicycle network, which includes five categories of routes:
a) The Sardis Rail Trail (SRT) is the spine of the future bicycle network, providing a direct, traffic-free north-south connection that is attractive to cyclists of all ages and abilities.
b) Protected Routes that incorporate some form of protection from motor vehicle traffic, and as a result will be attractive to cyclist of all ages and abilities.
c) Core Routes connect key destinations, commercial areas and neighborhoods throughout the City, as well as neighboring municipalities.
d) Neighbourhood Routes provide local access within urban neighbourhoods and rural communities and connect to other routes.
e) Recreational Routes are used primarily by cyclist riding for recreational and fitness purposes, and include paved shoulders, low-traffic road and off-road pathways and trails shared with pedestrian and other active transportation modes.
The cost breakdown for Priority projects are in the neighbourhood of $30M while the "quick win" projects are approximately $3.4M