Fraser Valley – The recruitment material spells it out – you don't need to wear a uniform to make a difference. When someone makes an urgent call for help, it's a dispatcher or telecommunications operator, who picks up the phone. The annual celebration of Emergency Service Dispatchers' and 9-1-1 Awareness Week from April 9-15, 2017, may be a good time to consider attending a recruiting session – two are upcoming this month in Kelowna and Prince George.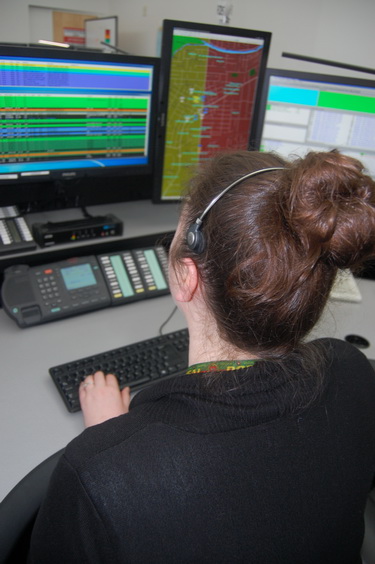 The RCMP's Operational Communication Centres (OCCs) serve approximately 2.1 million people in the province of British Columbia. There are 5 provincial OCCs, located in Courtenay, Surrey, Prince George, Kelowna and Victoria. There are additional municipal RCMP OCCs in Surrey, North Vancouver, Coquitlam and Langley. In 2016 our telecommunication operators answered approximately 695,000 calls from the public for police assistance.
New dispatchers are mentored closely for 8-9 months by experienced dispatcher coaches. Kim Bamber, based in Kelowna, has been an OCC coach for 9 years. My favourite thing is seeing the transformation in someone who is scared to answer the phone to being a confident and successful operator, says Bamber. She estimates the average call taker handles about 80 calls a day, or up to a couple hundred calls a day during extremely busy times.
She acknowledges it can be a challenging job, as dispatchers must be able to multi-task, be quick learners and deal with the emotions of those calling.
People don't call on a good day, she says ruefully. They can be swearing, rude, demeaning, but we have to get the information to make sure we can get them the help they need – and ensure our police officers don't get hurt responding to them.
LeAnne Hazlewood has been coaching new dispatchers for five years, and works out of the BC RCMP headquarters OCC, located in Surrey. We have a very specific formula we follow for every call, she says, and when that formula becomes second nature for new dispatchers, they realize they can handle any call.
Even when we have a child on the line, we still need the basics. Where are they? What's happening? To who? Are weapons involved? she explains. In an emergency, it doesn't matter what caused situation. We just need to get our police officers there, and prepared to respond.
Learn more about becoming a telecom operator.  Click here for tips for Calling Emergency Services.