Chilliwack/Victoria – Chilliwack MLA John Martin's head hung low after word came out on Thursday that an RCMP investigation is underway into the termination of an employee of the MLA.
There was a discovery that tens of thousands of dollars went missing from Martin's constituency office bank account.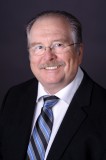 Martin made the announcement from his office in Victoria, and said he met with the employee who admitted he had misappropriated the funds.
Now that this case is in the hands of the RCMP, Martin had to chose his words carefully as he cannot talk in any detail about the case. As of Thursday night, no charges have been laid.
The person involved, has removed both their Facebook and Twitter accounts.
For the record: In October 2016, Marni Offman, a former assistant for NDP MLA Rob Fleming, pleaded guilty to two counts of theft over $5,000.
From that case, the Provincial Government has changed protocols in tracking MLA money, with more oversight from the legislature.
It was from this protocol that Martin was notified of the money. In this case, the money may have been inappropriately used.
More to come.