Cascades' Sartori, Dulay named Canada West basketball all-stars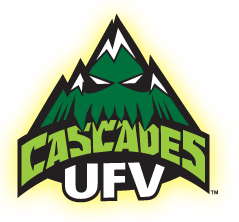 University of the Fraser Valley basketball standouts Kayli Sartori and Manny Dulay were honoured on Monday as Canada West announced its all-star teams.
Both were named second team all-stars – Sartori on the women's side, and Dulay on the men's side.
Sartori's award is yet another accolade in a highly decorated career which has seen her selected as a national championship all-star (2014), a Canada West first team all-star (2016) and a U SPORTS second team All-Canadian (2016).
The fifth-year guard/forward from Chilliwack, B.C. put together a tremendous senior season, finishing fifth in Canada West scoring (16.4 points per game) and also ranking among the leaders in assists (3.2 per game, eighth), rebounds (7.0 per game, 16th), steals (3.0 per game, fourth) and blocks (1.0 per game, eighth).
Sartori helped lead the Cascades to the Canada West quarter-finals this season, defeating the Calgary Dinos in the first round before succumbing to the defending national champion Saskatchewan Huskies in a hard-fought three-game series. She averaged 18.5 points per game in six playoff contests, fourth-best in the league.
"It's a nice accolade for her to finish her career with," Cascades women's basketball head coach Al Tuchscherer said, reflecting on Sartori's second team all-star nod. "She's obviously done a lot for our program, and she's been recognized deservedly for that throughout the years. It's been a real honour to coach her – I'm proud to have had that opportunity."
Dulay, a fellow fifth-year athlete from Surrey, B.C., had a phenomenal campaign in terms of shooting and playmaking. He was the nation's most prolific long-distance shooter – his 78 three-pointers (on 42.6 per cent efficiency) were the most of any U SPORTS player this season, and tied him for the third-most in a single season in Canada West history. Dulay also moved into third place on the Canada West all-time list with 242 triples over the course of his five-year career.
The point guard also handled the lion's share of the Cascades' playmaking duties, and was second in Canada West in total assists (94) and assists per game (4.7), finishing just two assists shy of Manitoba's Ilarion Bonhomme for the conference lead. Dulay was also third in Canada West in steals (2.2 per game) and 11th in scoring (17.2 points per game).
This is the first conference all-star nod for Dulay, who led the Cascades to the conference playoffs where they were eliminated in a three-game first-round series vs. the Winnipeg Wesmen.
"He's come a long way, and I know how hard he's worked," UFV men's basketball head coach Adam Friesen said. "His success is based on smarts, skill and work ethic, not primarily physical ability. From being mainly a standstill shooter his first year to a starting point guard who put up numbers in multiple categories in his fifth year, it's a testament to how hard he's worked."